This research is commissioned by ADDX in collaboration with Canopy Research, a bespoke insight provider of Beansprout.sg dedicated to guiding accredited investors along their financial journey. Beansprout is a next-generation investment advisory platform licensed by the MAS.
---
China's ambitious carbon emission targets have led to rapid growth of the renewable energy sector. We take a deep dive into how the development of the solar industry has helped to spur the emergence of global leaders across the supply chain.
One of the key highlights of 2021 was the United Nations Climate Change Conference (COP26), which has been labelled "a turning point for climate" by the World Economic Forum. In particular, there was an increase in commitment across many countries to reduce their carbon emissions.
China is the world's largest energy consumer and carbon emitter, accounting for close to one-third of global carbon emissions. With its pledge to achieve carbon neutrality by 2060, the renewable energy industry comprising largely of solar and wind energy has seen a significant boost.
According to the International Energy Agency (IEA), the contribution of non-fossil fuel in China's energy consumption is expected to increase to about 80% by 2060 from about 16% in 2020. This is in line with the Chinese government's long term goals of tackling climate change, as well as improving energy security and air quality.
The growth of solar capacity will help to support Chinese energy demand, with total energy demand fueled by solar energy expected to grow to 33 EJ by 2060 from just 3 EJ in 2020. Solar energy, which is used for power generation and for heating in buildings and industry, is expected to become the largest primary energy resource by around 2045, and to account for more than 25% of total energy demand in 2060. The rising adoption of solar energy is driven by a combination of increasing cost competitiveness and improving grid infrastructure.
More recently, the Ukraine Crisis has highlighted the importance for governments to focus on energy security and to diversify away from fossil fuels. This comes as commodity supplies have been disrupted from the ongoing conflict, resulting in a surge in the prices of commodities including oil and gas.
For example, the EU has announced plans to make Europe independent from Russian fossil fuels before 2030. This will involve an acceleration in the adoption of renewable energy, and has brought attention to  how wind and solar energy can have a greater role in the global energy mix.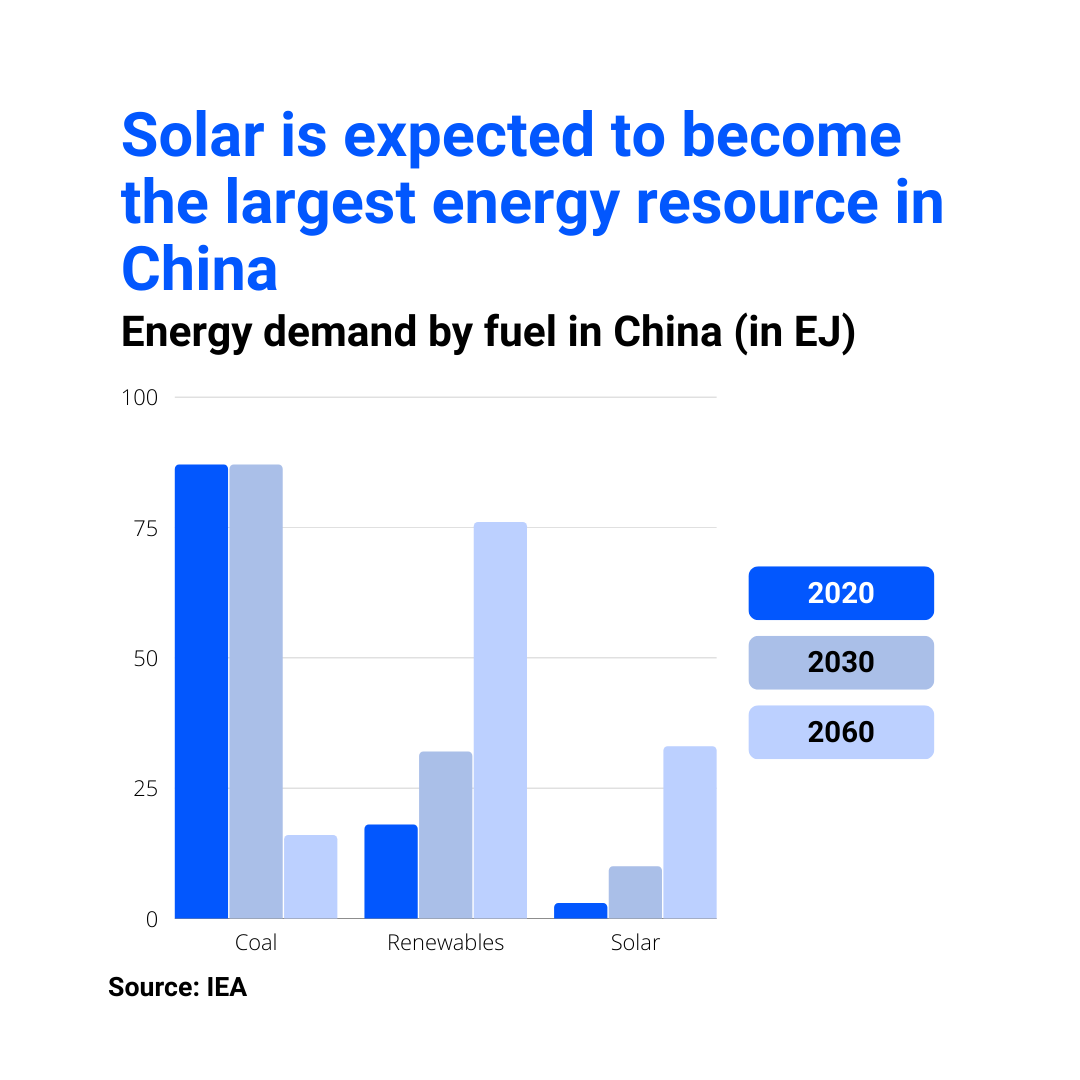 Solar energy is cost competitive compared to other energy sources
According to IEA, solar photovoltaic (PV) systems are already able to compete with new coal-fired plants today in many regions. In addition, the recent switch to renewable auctions in China is expected to further drive down prices, resulting in solar undercutting the cost of electricity generated by many existing coal plants between 2025 and 2030.
Feed-in tariffs (FIT) for renewable energy in China introduced since 2006 has also played a role in boosting the development of a domestic turbine and PV panel manufacturing industry, which has improved industry cost competitiveness. The FIT policy would allow the government to collect a surcharge from consumers and pass it on to the solar power generators. The surcharge is used to fill the gap between the FIT price and the benchmark tariff (the cost of coal power).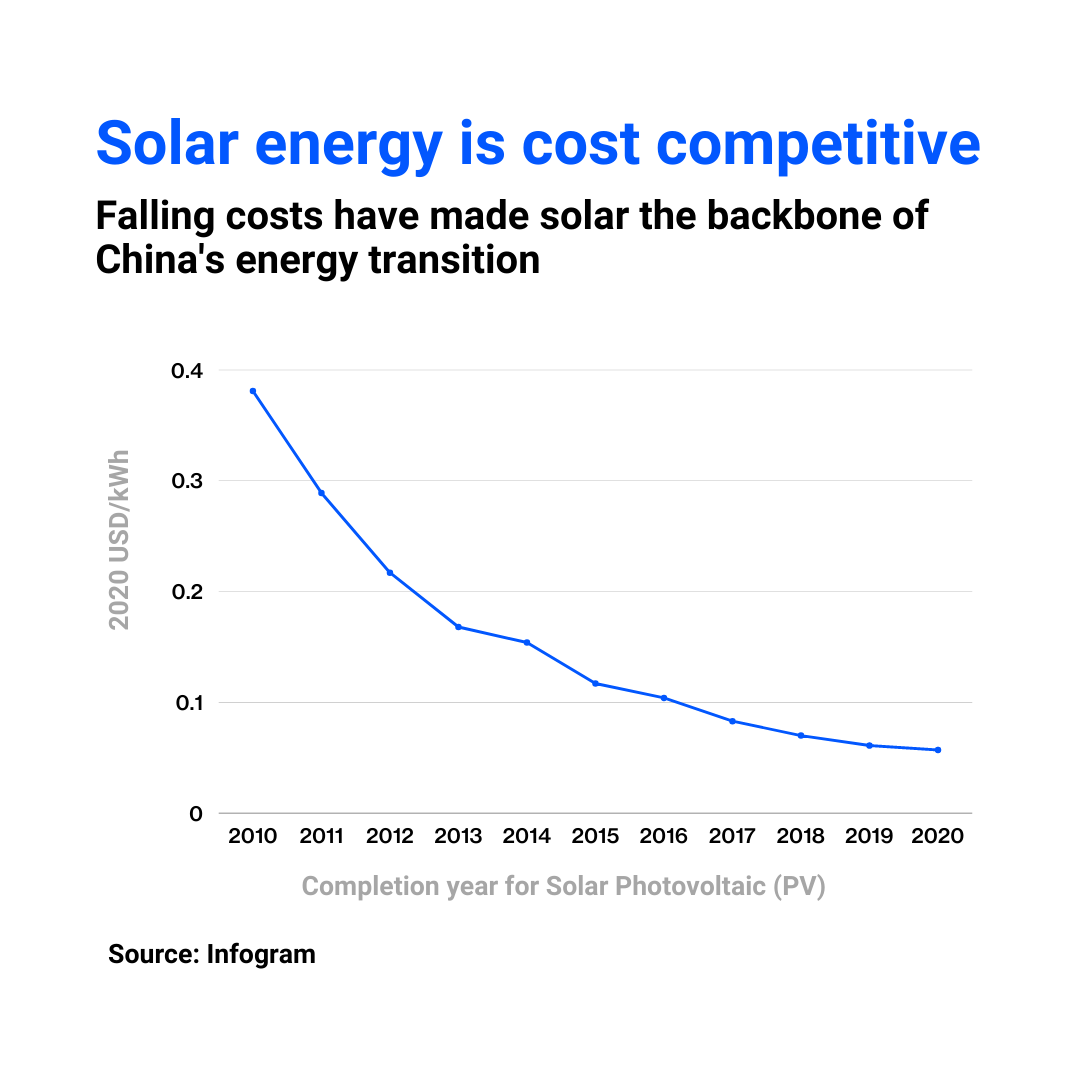 Improving grid infrastructure and storage capacity
China's 14th Five-Year Plan (2021-25) has identified strengthening the transmission system and storage capacity as an area of focus to facilitate the integration of more variable renewables capacity and network connections to remote regions.
This is driven by a projected increase in solar capacity of about 220GW per year from 2030 to 2060. The capacity additions are mostly in the north and northwest, where there is sufficient land and natural resources. In regions where there is less land (i.e. east and south), more renewable capacity is built offshore.
Inline with the Five-Year Plan, the State Grid Corporation of China is looking to invest about US$370 billion over the five years to 2025, including increasing interregional transmission capacity to 300GW, of which half could be used to carry clean energy.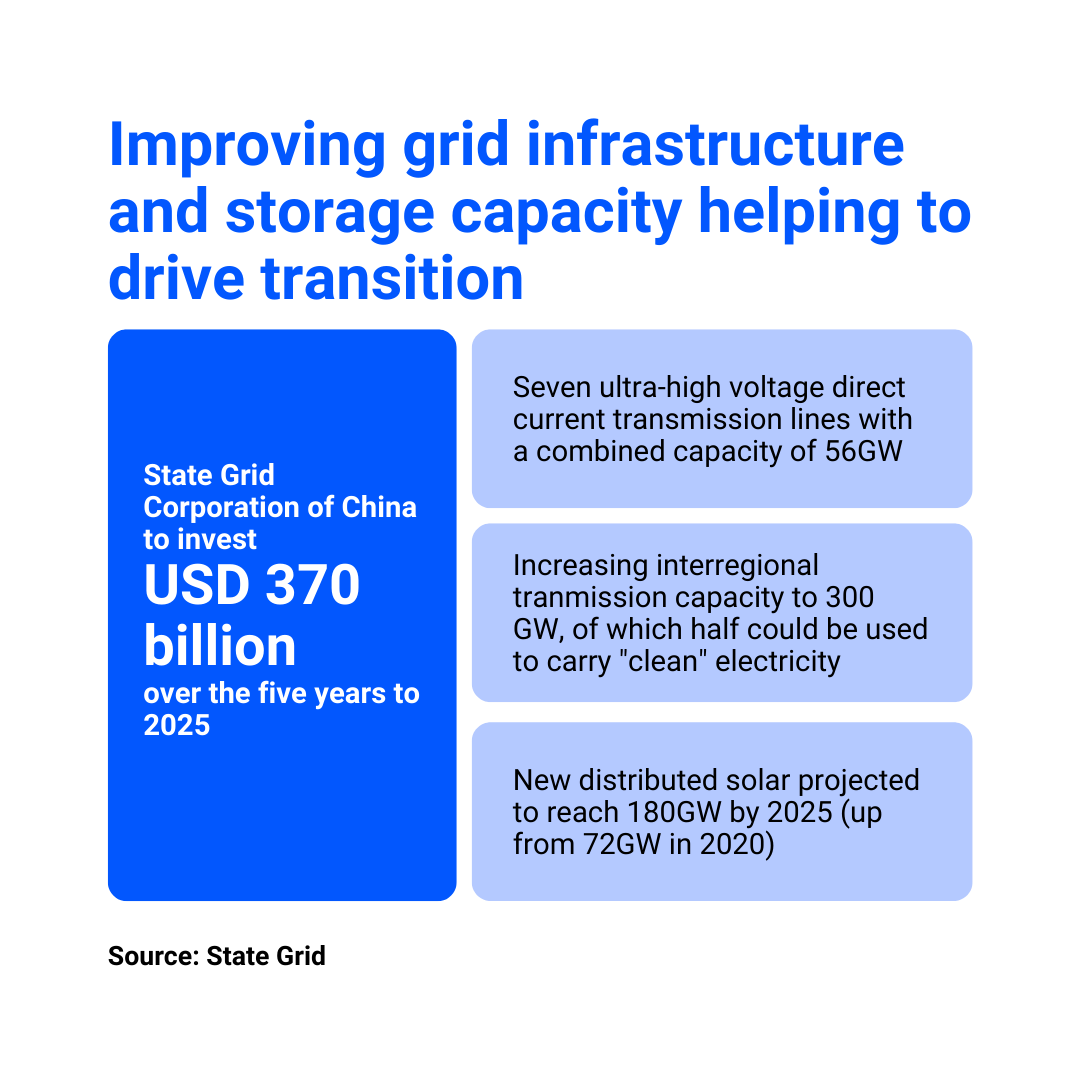 Significant investments have made China the global leader in solar energy
With significant investments made in the solar industry, China has become the global leader across the solar manufacturing value chain. According to IEA, China accounted for about 25% of global public spending on energy R&D and about 15% of spending on low-carbon energy R&D in 2020. Broad energy goals are established by the national government, while industry participants including state-owned enterprises, private companies, universities, and provincial and municipal governments are also deeply involved in the implementation of the goals.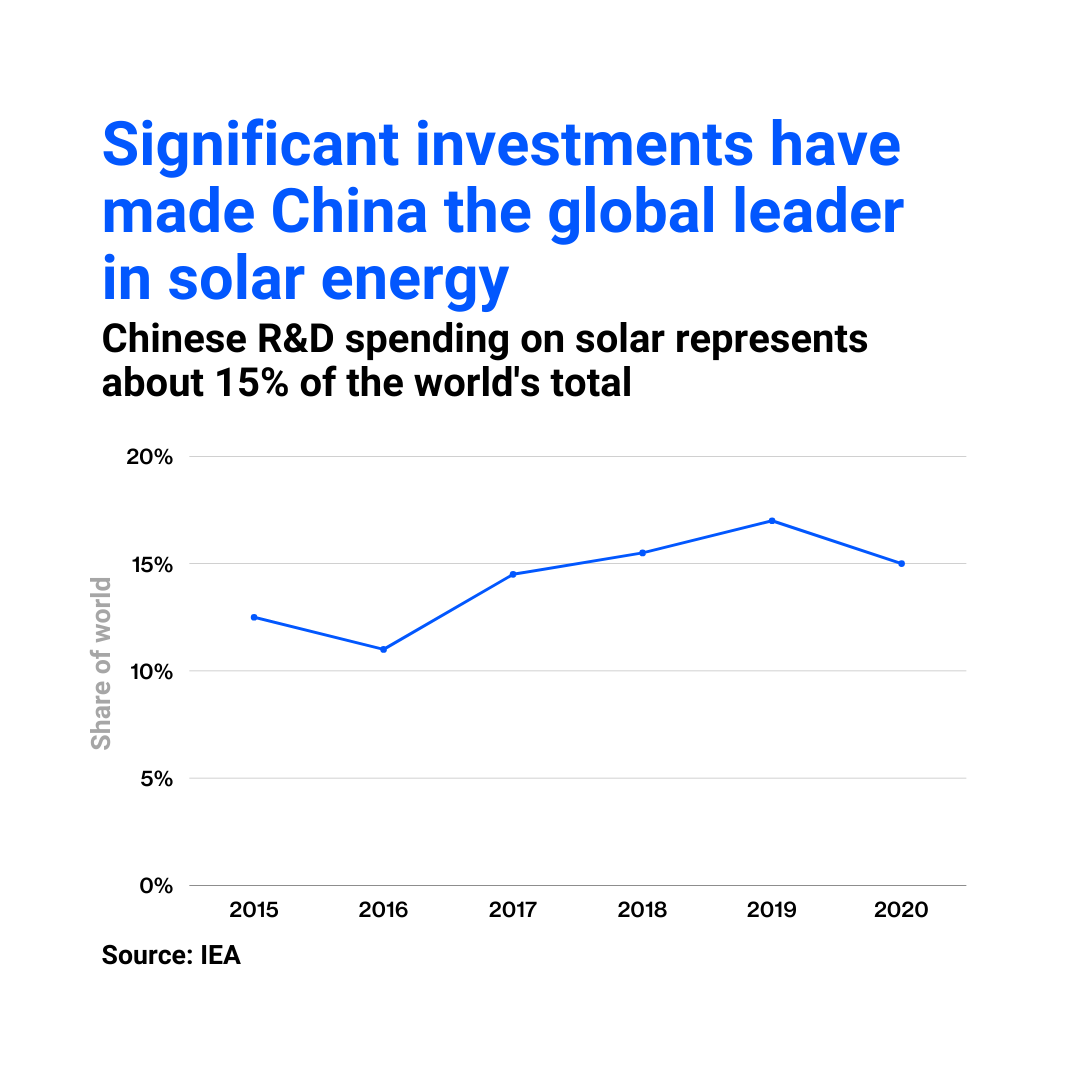 Chinese companies collectively control at least 60% of global capacity for every segment in the solar supply chain, including polysilicon, cells and panels. This would range from about 64% for polysilicon, to as high as 99% for solar wafer capacity.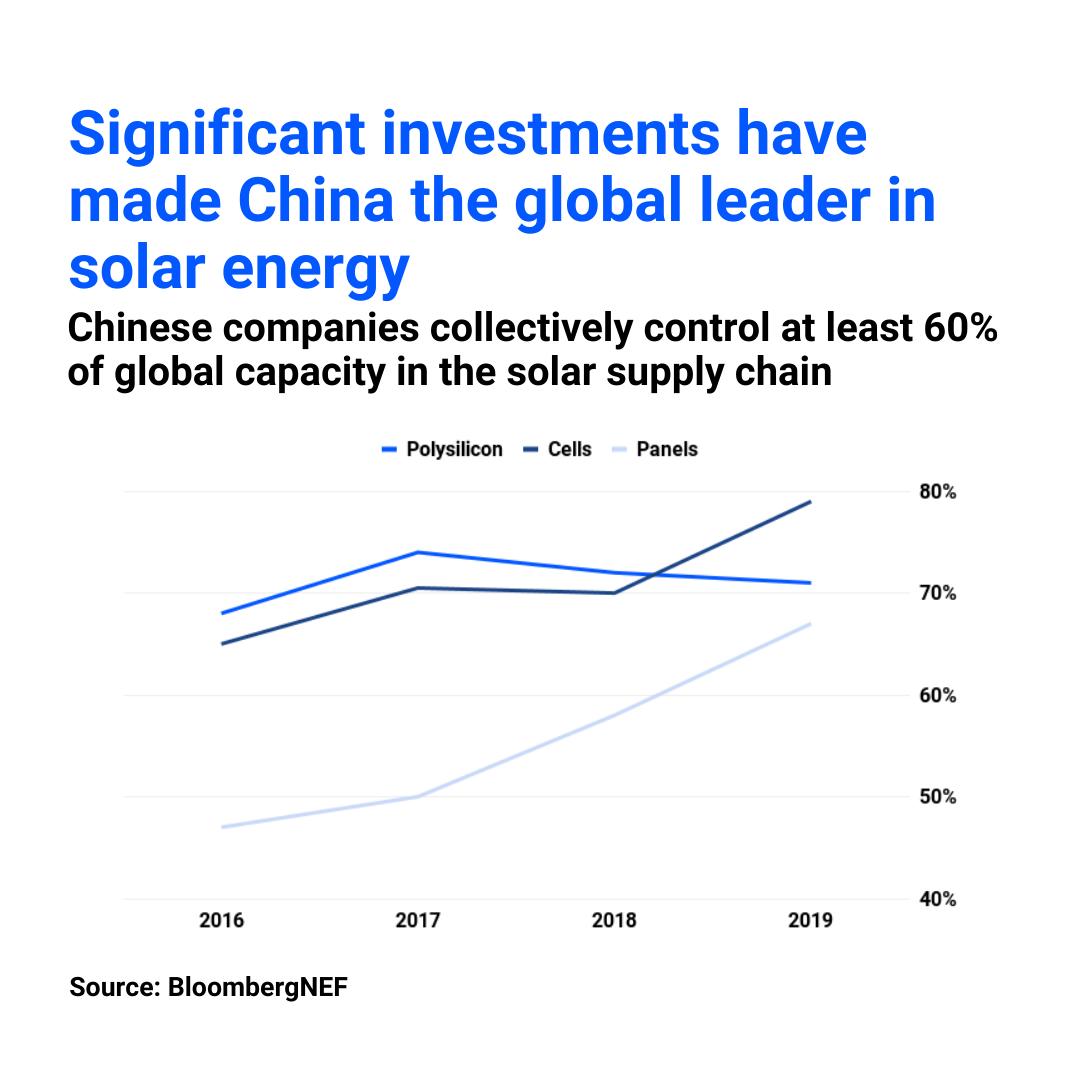 These are the companies driving the solar industry in China
Many who have been following the growth of the solar industry globally would probably be familiar with names such as Enphase Energy and First Solar. It is less well known that Chinese company Longi is the world's largest producer of solar wafers and the world's largest solar company by market value, with a market capitalisation exceeding US$60bn as of end-2021. Together with other companies such as Tongwei and Xinyi Glass, these publicly listed companies have commanding positions in their respective business areas across the solar supply chain.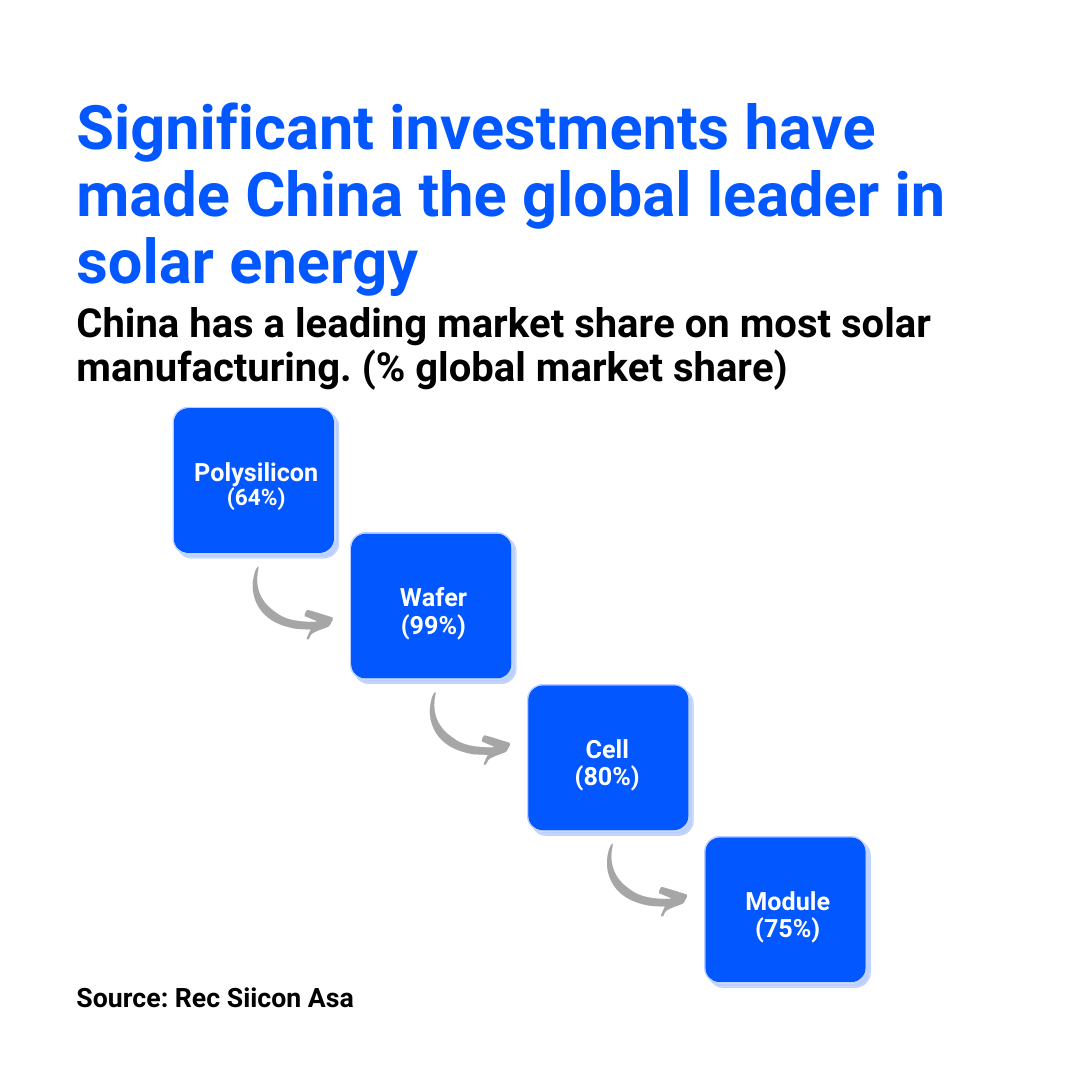 Polysilicon
Tongwei. Headquartered in Chengdu, Tongwei is involved in the upstream segment through the production of polysilicon, and in the midstream segment through the production of solar cells. According to Bernreuter Research, Tongwei was the largest polysilicon maker globally in 2020.
Solar wafers and modules
Longi Green Energy Tech. Headquartered in Shaanxi, Longi is the world's largest producer of solar wafers and the world's largest solar company by market value. It produces over 30GW of high-efficiency solar wafers and modules worldwide yearly, meeting about a quarter of global market demand. The company has set a target to maintain its global market share in monocrystalline silicon wafer at 45%. It has also mapped out an amibition to increase its share in solar modules to above 30% from 19% in 2020, though it has not set a timeline for achieving this target.
Components
Hangzhou First Applied Material. Hangzhou First Applied Material is a global leader in the production and sale of solar cell film, with an estimated global market share of 55-60% in 2020.

Xinyi Solar Holdings. Headquartered in Anhui, Xinyi Solar is a leading global solar glass manufacturer, with an aggregate daily production capacity of these manufacturing facilities amounts to 9,800 tons, capable of meeting about 35% of global demand for solar glass products for PV module production.  

Sungrow Power Supply. Headquartered in Hefei, Sungrow Power Supply is a solar inverter manufacturer and also provides energy storage systems for utility-scale, commercial, and residential applications. Sungrow shipped over 35 GW of PV inverters in 2020, representing a global market share of close to 27%.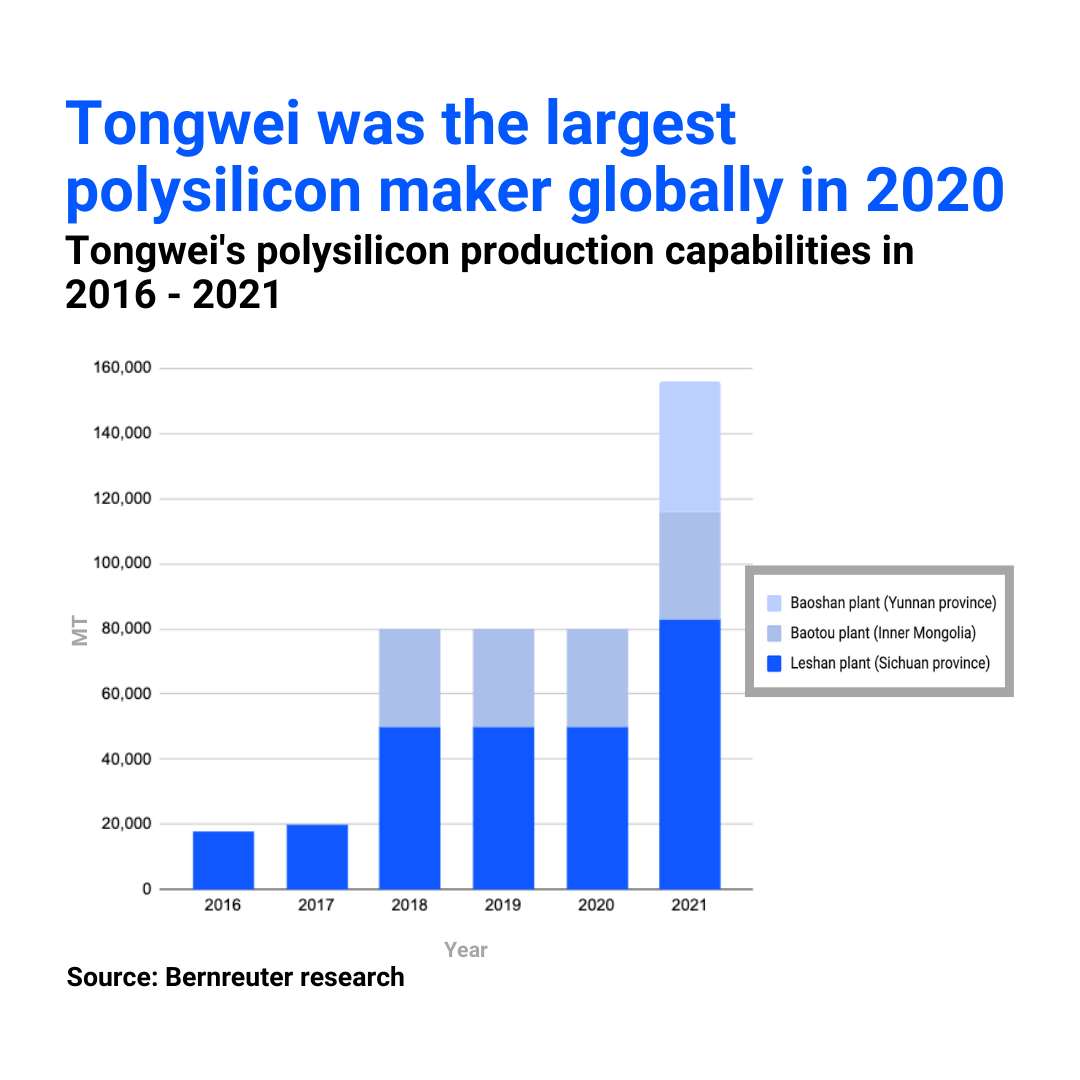 The declining cost of photovoltaic cells, improving grid infrastructure and storage facilities have all made solar energy more attractive as an alternative source of energy compared to fossil fuels. With a continued push to achieve long term carbon targets, the Chinese solar industry will likely remain a space to watch in the years ahead.
This article is for general informational purposes only and has not been independently verified to ensure its accuracy and fairness. This article does not constitute any advice or recommendation from ADDX or ICHX Tech Pte. Ltd. ("ICHX") or any of its affiliates. Please consult your own professional advisors about the suitability of any investment product/securities/ instruments for your investment objectives, financial situation and particular needs. No representation, warranty or other assurances of any kind, expressed or implied, is made with respect to the accuracy, completeness, adequacy, reliability validity or availability of any information in this article. Under no circumstance shall ADDX or ICHX have any liability to the reader for any loss or damage of any kind incurred as a result of the use or reliance on any information provided in this article. This article may not be modified, reproduced, copied, distributed, in whole or in part and no commercial use or benefit may be derived from this article without the prior written permission of ADDX and ICHX. ADDX and ICHX reserve all rights to this article.