COVID-19 Has Catalyzed a Permanent Shift Towards E-Commerce
Lockdowns and social distancing in Southeast Asia have brought forward decade-long structural trends as consumers have been forced to adopt digital services at a time when traditional brick-and-mortar is considered unsafe. E-commerce, in particular, is having a shining moment as the service evolved from a luxury to a necessity for households all over the world.
According to the SEA e-Conomy report, a well-referenced study produced by Google, Bain, and Temasek, the Gross Merchandise Value or GMV (total monetary value of items sold over a given period of time) of e-Commerce in Southeast Asia is expected to quadruple in size from US$38 billion in 2019 to US$153 billion by 2025 as more consumers transition online. While these forecasts may seem high at first glance, we note that they are likely too conservative now given that they were produced pre-COVID.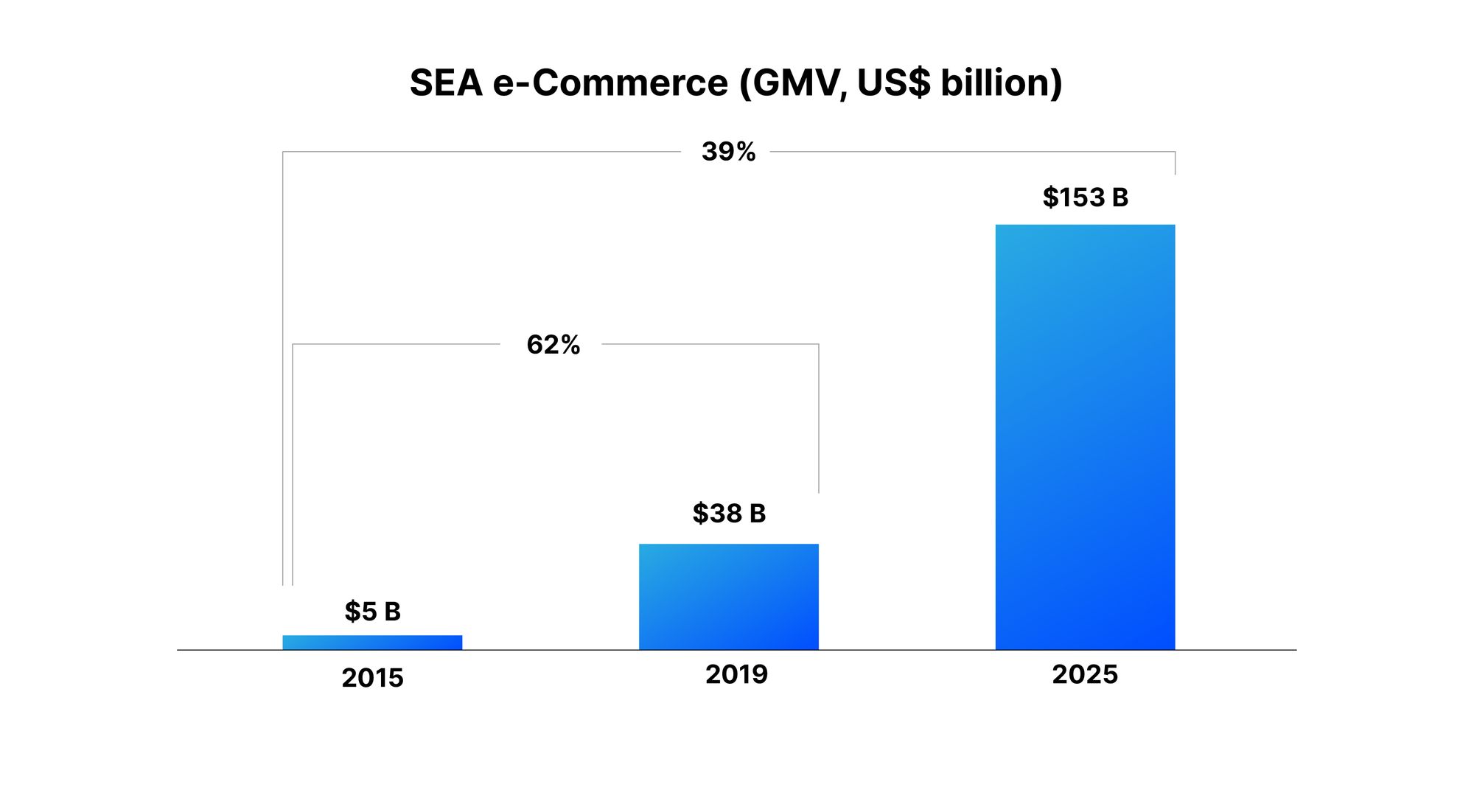 E-Wallets and Digital Payments to Serve as Gateway into Broader Digital Economy
As seen in the chart below, China's e-commerce GMV experienced tremendous growth right around the same time as the boom in e-wallet and mobile payments adoption. We believe a major reason for this is that e-wallets can serve as a gateway to the broader digital economy - helping influence consumer behaviors and making it easy to try digital services.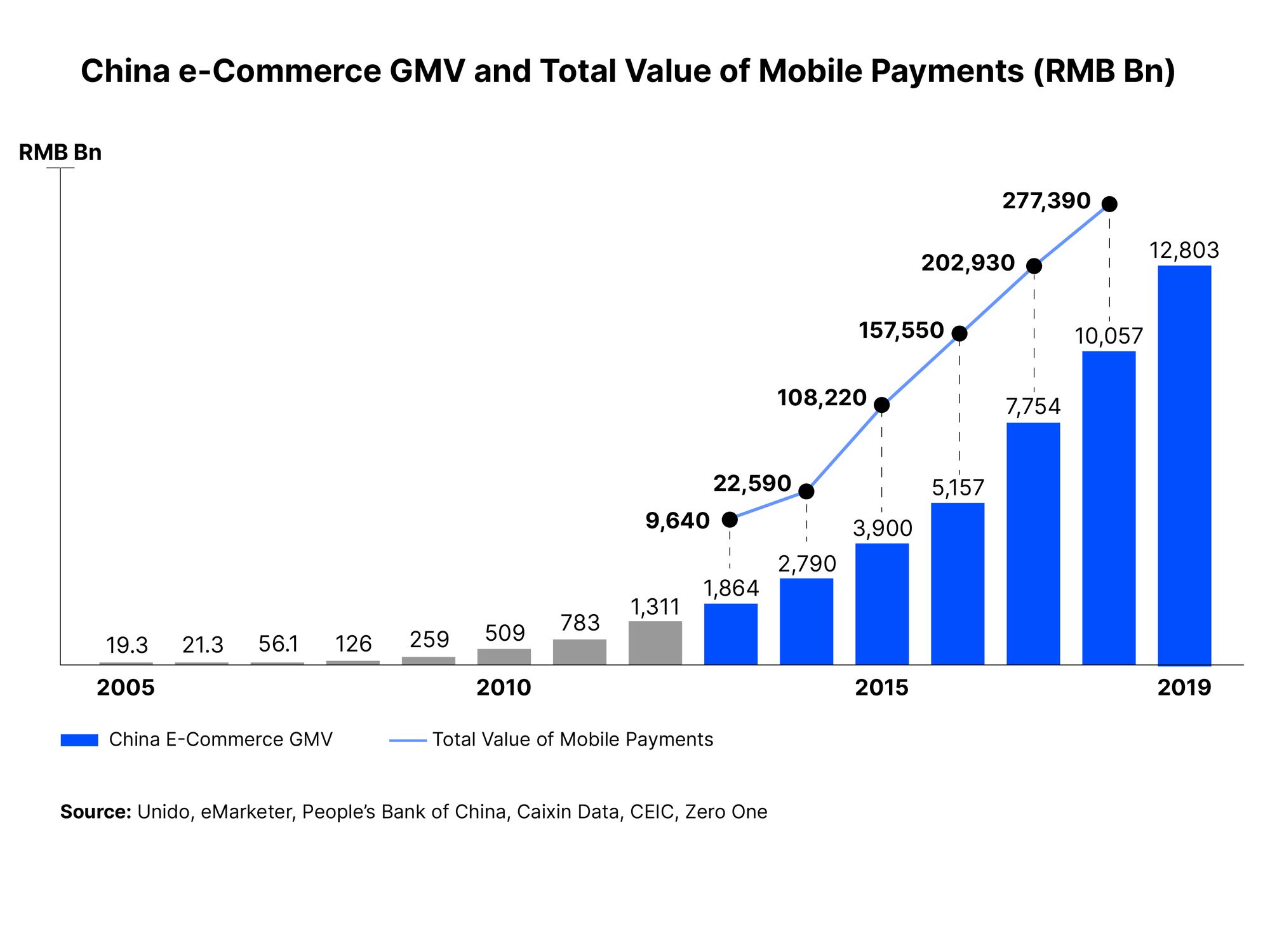 We expect a similar trend to happen in Southeast Asia as consumers transition away from cash payments towards digital payments and e-wallets. As per the table below, governments in Southeast Asia have begun actively pushing consumers to "go digital." We see this as a long-term positive catalyst that will ultimately drive sustained growth in digital services like e-commerce as more consumers grow accustomed to the convenience and safety of the service.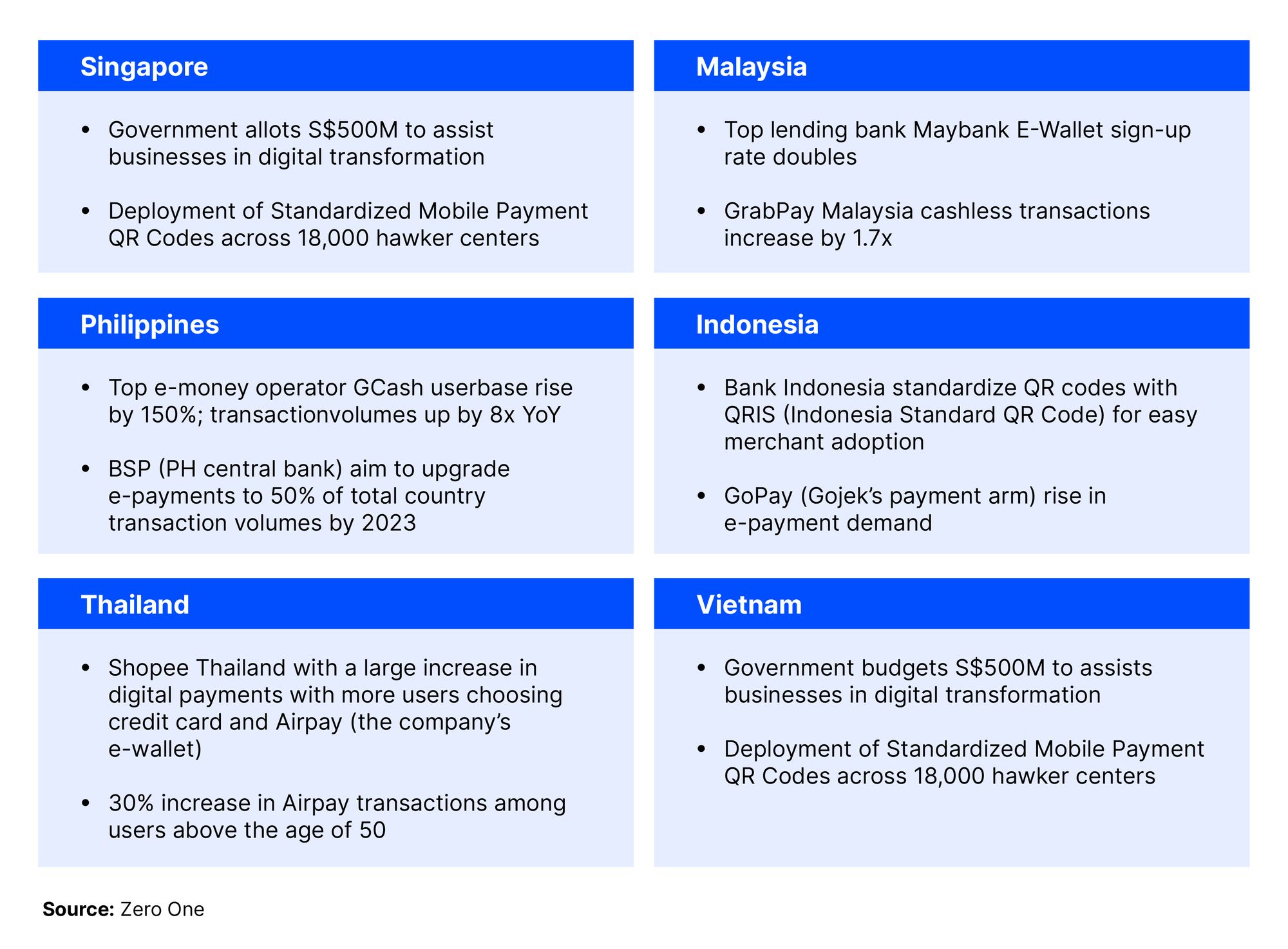 Due to the onset of the COVID-19 pandemic, businesses and consumers who were previously obstinate with brick-and-mortar stores and physical cash payments are now forced to adapt to the digital economy in order to survive the new normal. Any previous trial barriers or lingering doubts that existed are now shattered as COVID-19 has super-charged the momentum of these trends, and e-commerce adoption and growth will only increase in the foreseeable future.
The Boom in E-Commerce is Rapidly Changing Supply & Demand Dynamics in Real Estate

As a consequence of the e-Commerce boom, we see dynamics in the real estate sector drastically changing as assets linked to the traditional retail value chain experience headwinds, whereas those linked to e-commerce see sustained higher demand.
As seen in the table below, what sets e-commerce apart from traditional retail is the key role of data processing and online platforms. From consumer behavior studies through machine learning to product demo live streaming through social media, online is core in driving e-commerce. All these activities are supported by data centers that store and process massive amounts of data. These are only set to grow in value in the wake of the e-commerce boom.
In addition to that, logistics and fulfillment will play a larger role in the shift to e-commerce as more emphasis is placed on faster deliveries while maximizing efficiency and minimizing costs. To keep up with the shifting demand, acquisitions in geographically-distributed fulfillment centers are in the cards now for 3rd Party Logistics (3PL) firms, as well as further investments in both computerized sorting systems and sophisticated storage facilities. This will only drive up the demand for logistics real estate.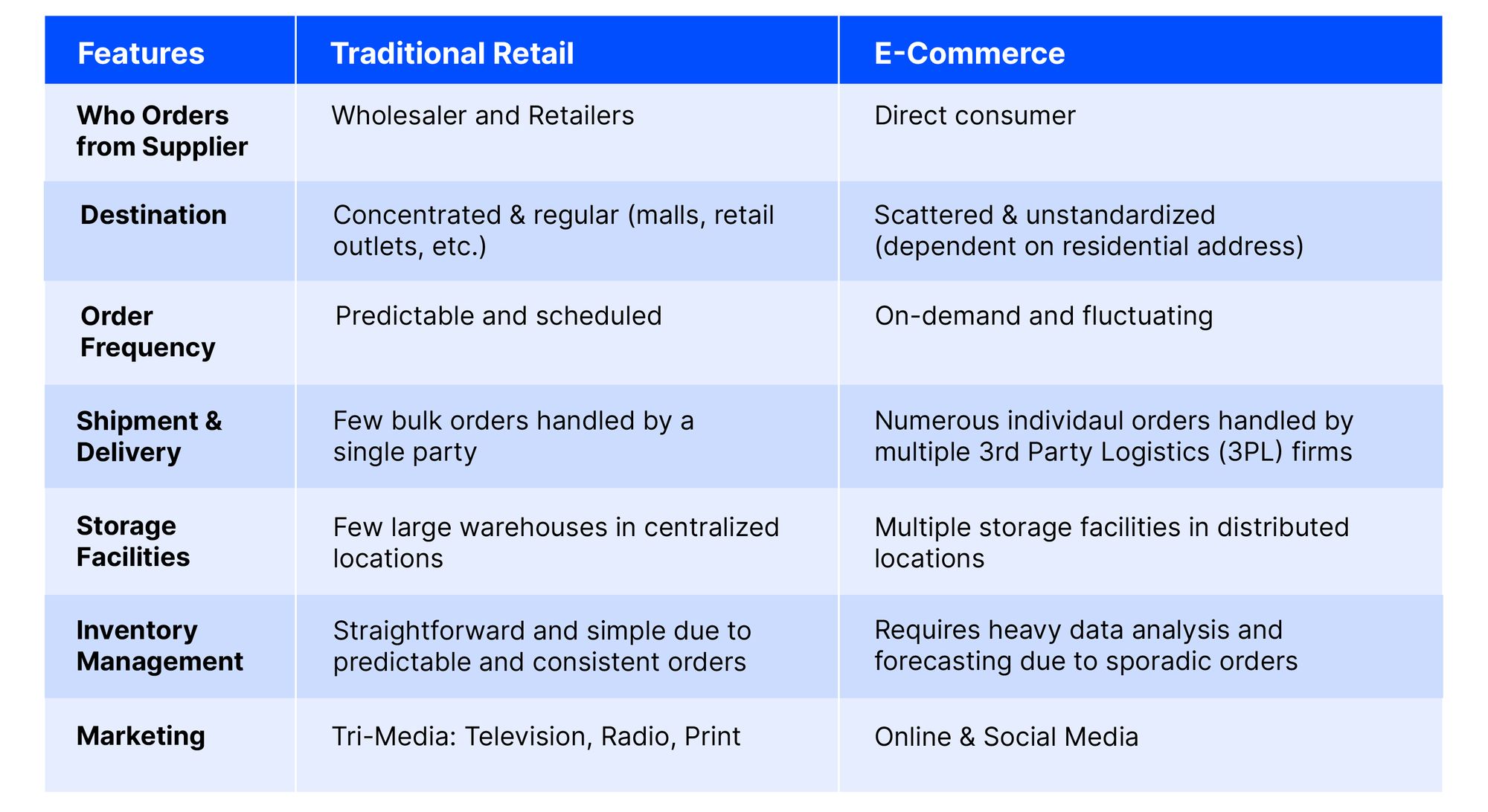 Given this, we expect consumer preferences for convenient at-home-delivery to be a resilient and growing trend, whereas brick-and-mortar shopping will likely remain under pressure even after the resolution of the coronavirus. Real estate assets anchored on physical retail consumerism will give way to the new e-commerce economy. In particular, the key real estate sectors that we believe will be most affected by the transition towards e-Commerce are Retail, Logistics, and Data Centers.
Retail Real Estate: Limited Visibility & Headwinds Due to Mixed Results in Government Pandemic Response

As e-commerce continues to boom in Southeast Asia, the retail real estate sector will experience headwinds as the recovery of shopping malls and groceries remains uncertain as the region's response to COVID-19 has seen mixed results. For example, as cases in Indonesia and the Philippines continue to rise with no signs of slowing, real estate consultancy Colliers predicts mall vacancy rates in the Philippines to rise to 12% this year, putting pressure on mall operators as nonessential stores remain closed.
In countries with better pandemic responses such as Singapore, Malaysia, Thailand, and Vietnam, shopping malls have begun to reopen, but with shorter mall hours and less foot traffic due to social distancing. Revenue will likely remain under pressure for the foreseeable future given the caps in capacity utilization.
Additionally, tourism retail - a strong driver in the sector - will likely see continued shortfalls due to border restrictions, with Singapore already experiencing a 71% decrease in visitors for the first half of 2020 as published by the Singapore Tourism Board (STB). The potential of case resurgences, like those experienced in Singapore and Vietnam (Da Nang), will keep consumers cautious, further pushing forward e-commerce and placing uncertainty in retail real estate's short to medium-term prospects.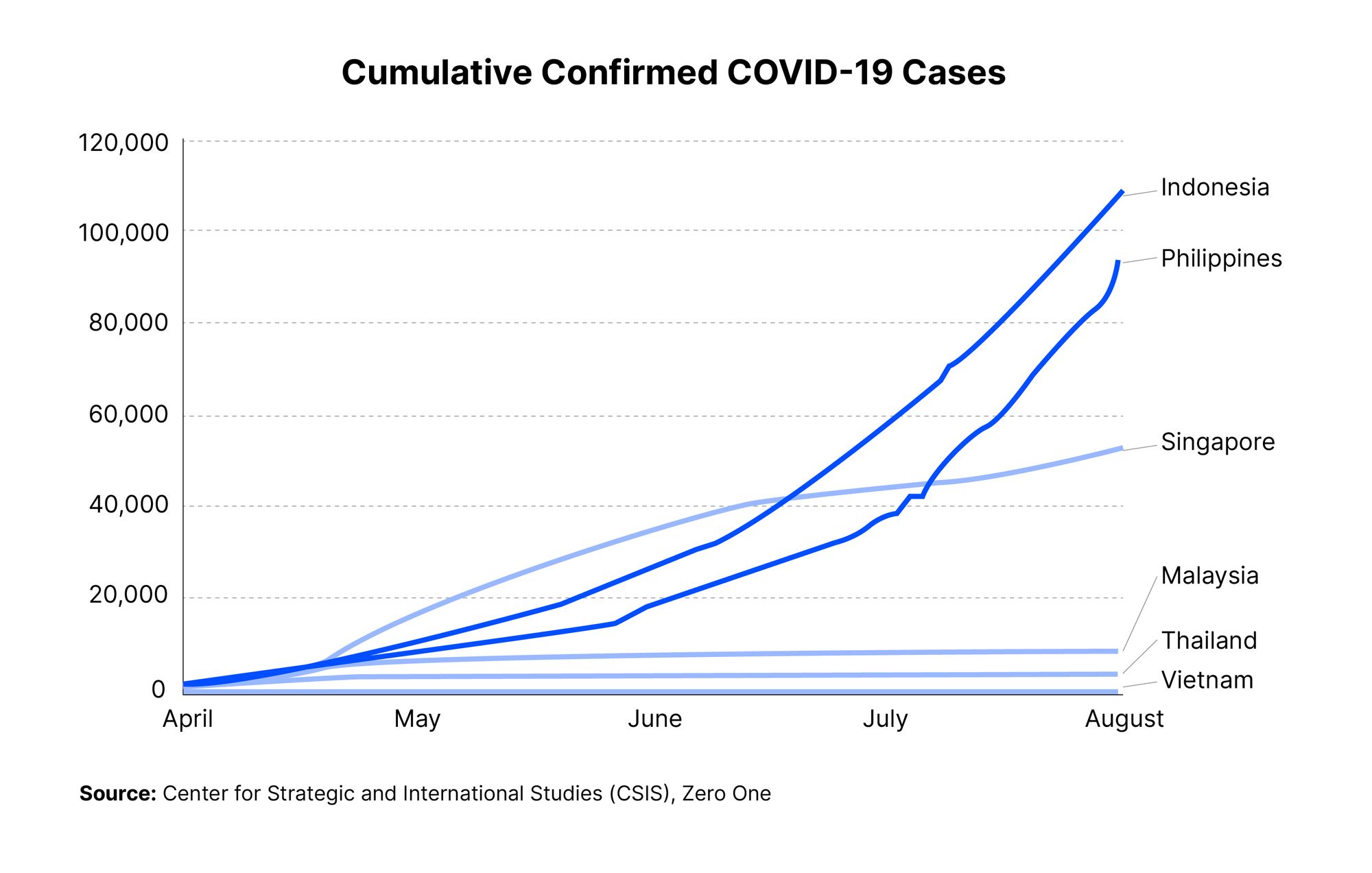 Logistics Real Estate: Fulfillment Centers are the New Core as Untapped E-Commerce Categories Boom in the New Normal

In the past, fresh foods and groceries were not usually ordered online due to preexisting mindsets that you needed to see food before purchasing it. But in a postCOVID study by Niesen referenced below, the majority of consumers are now permanently shifting to a "safe-in-home consumption" trend - ordering their groceries online and having them delivered to their homes.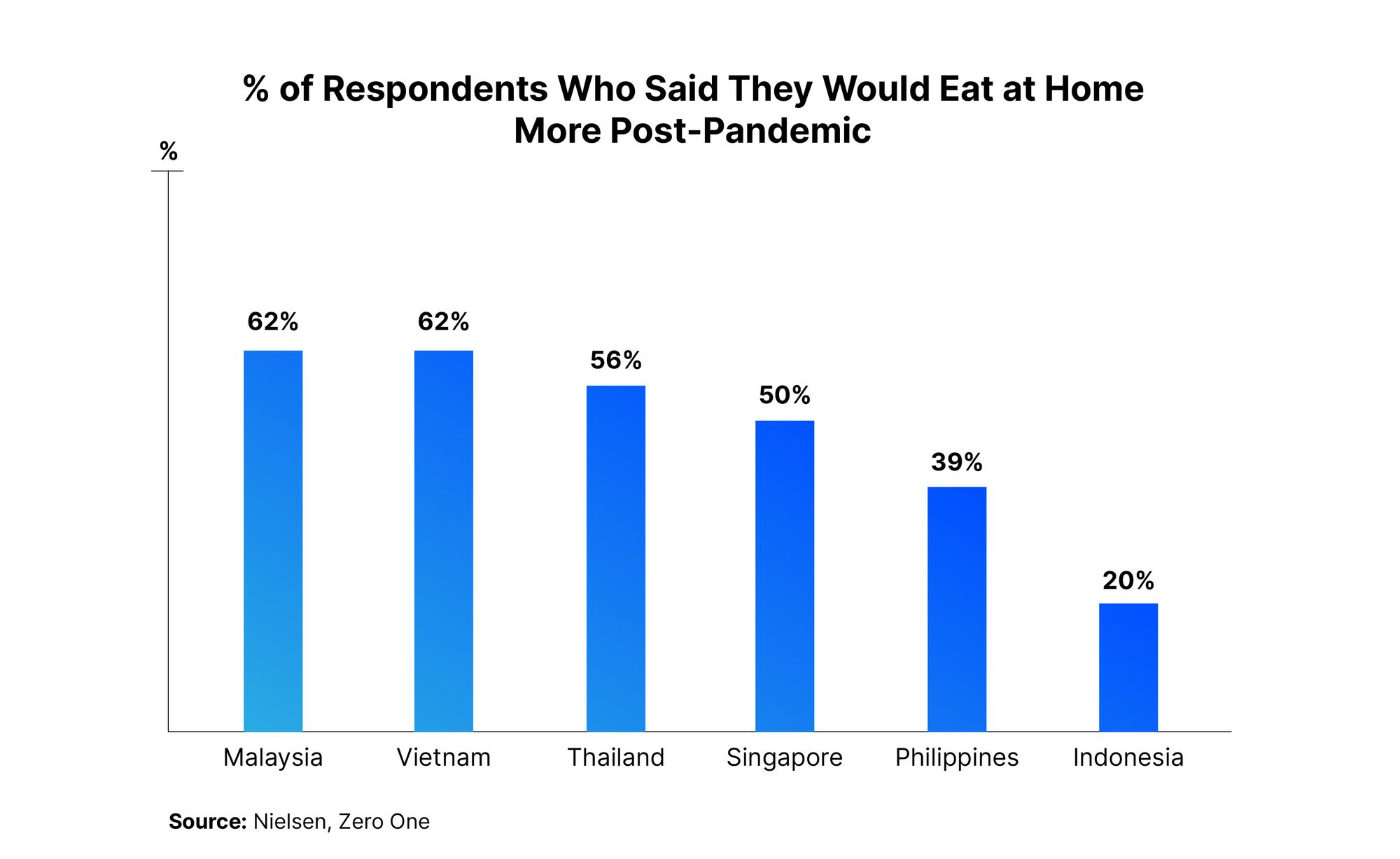 This represents a huge opportunity for e-commerce firms, as only 0.3% of fresh foods and groceries (out of a US$350 billion market) were being ordered online against a broader retail e-commerce penetration of 3% in the region. Assuming the e-commerce penetration for fresh foods and groceries reaches parity with broader retail e-commerce, it would imply a 10x GMV uplift for the category. E-commerce firms have already begun to capitalize on this, with Lazada Malaysia successfully launching a virtual store to connect farmers in the Cameron Highlands district to consumers, having over 70 tons of vegetables delivered from farms directly to people's homes by the 3rd week of its launch.
We note that this is just one example of a category that is likely to see permanent increases in adoption post-COVID. Other e-commerce categories such as clothing, beauty care, and household appliances are also likely to experience increased adoption due to safety reasons and convenience. As seen in the chart below, Facebook and Bain expect these categories to grow at a compounded annual growth rate (CAGR) of 20-30% from 2018 to 2025 as e-commerce adoption spreads through the region.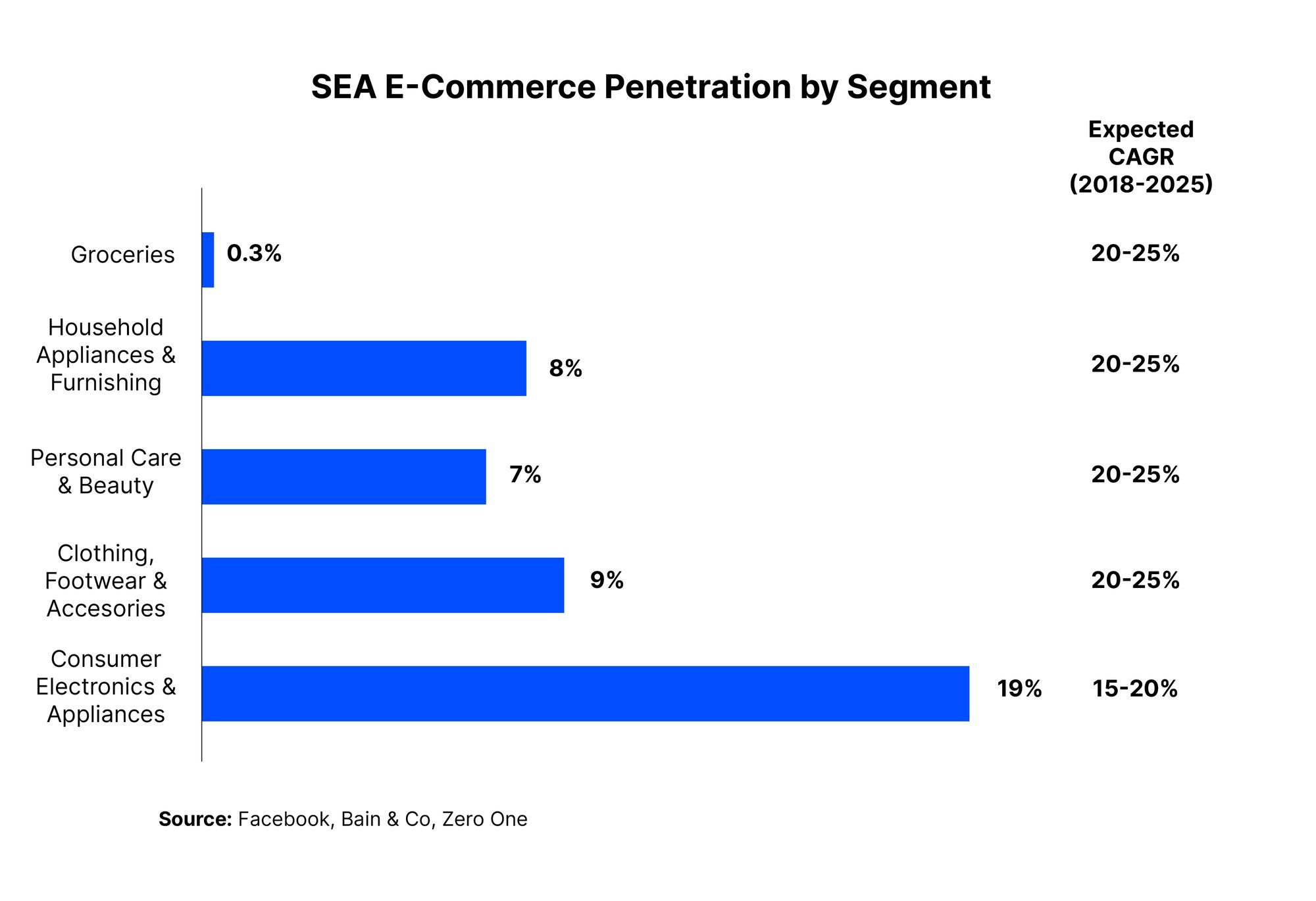 With this, 3rd Party Logistics (3PL) players must adapt to the flood of new ecommerce orders from new categories, while upholding industry expectations of next-day or same-day delivery and maintaining freshness of produce.
We foresee opportunities in logistics real estate as these same 3PLs will invest in distributed, small-scale fulfillment centers to optimize its ability to deliver to any and every consumer. In addition, the unique challenges in storing and delivering fresh produce will force 3PLs to invest in either advanced IT systems or cold storage equipment (in the case of fresh produce), both of which will drive up further the value of logistics real estate assets.
Data Center Real Estate: On the Rise as the Foundation of E-Commerce Growth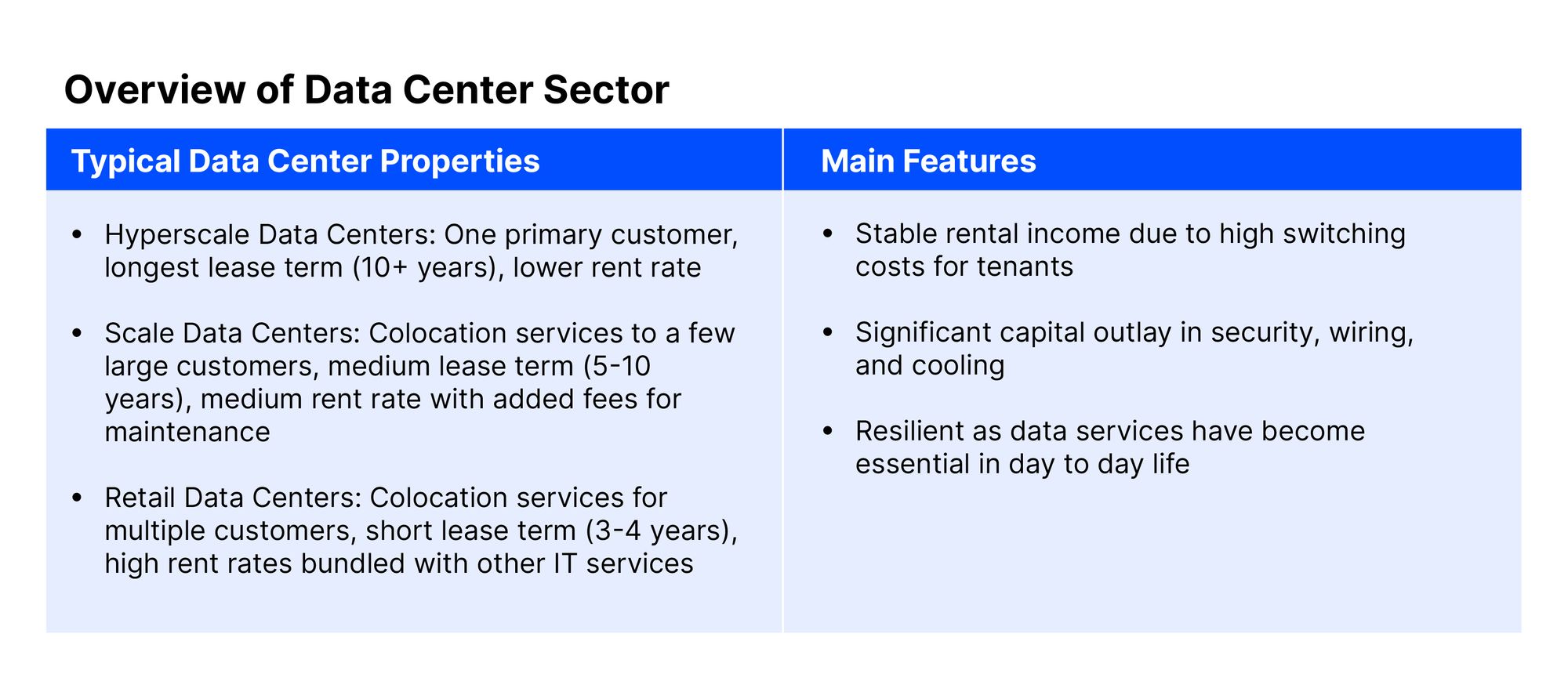 As a result of the coronavirus pandemic, the data center real estate sector will experience tailwinds as demand for more bandwidth and server capacity rise from the significant boom of user traffic and orders placed on e-commerce platforms.
As shown in the chart below, Facebook and Bain forecast the number of digital consumers and average spend per consumer to increase by 1.2x and 3x, respectively, by 2025. New "shoppertainment" features like e-commerce live-streaming, wherein an influencer demonstrates a product and responds to questions in real-time from a digital audience, is also set to boost app traffic and order conversion.
All this will lead to a rise of transaction volume which will require even more computing power to both forecast consumer demand and ensure efficient processing of orders placed.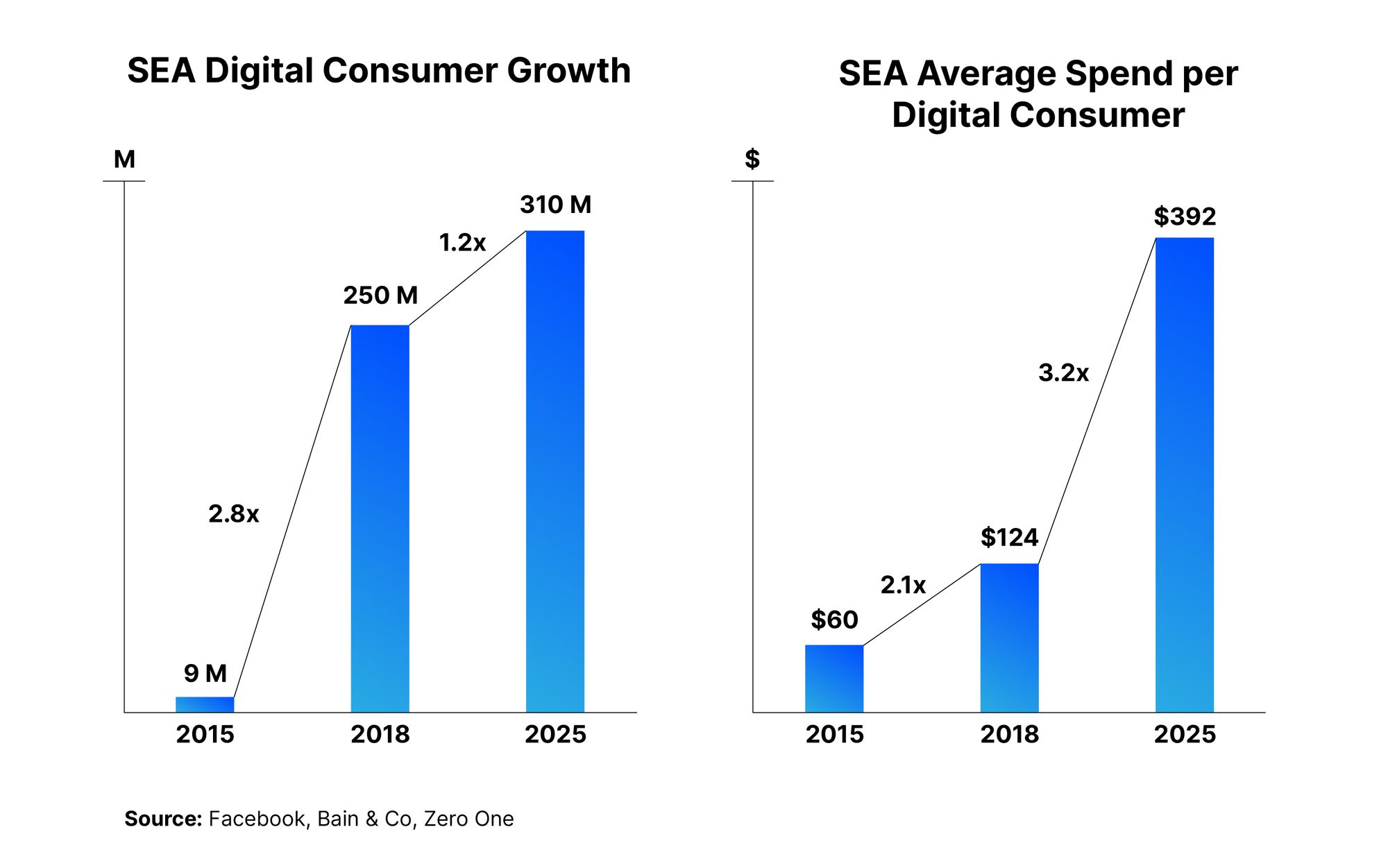 All these factors in e-commerce require a strong IT foundation to ensure its sustained growth, fueling demand for data centers to facilitate data storage, bandwidth support, and connectivity. A 2019 report by Cushman & Wakefield, estimated that the Southeast Asia data center market, currently at a market size of as US$ 3.5 billion, will expand by a compounded annual growth rate (CAGR) of 13% between 2019 to 2024, with Singapore, Malaysia, and Indonesia leading the charge. As these forecasts were produced pre-COVID, we note that these are likely too conservative, and we foresee a strong demand for data center real estate as e-Commerce booms in the new normal.
Investors are well-advised to take note of the e-commerce mega trend catalyzed by the COVID-19 pandemic, as it drastically shifts both value chains and supply demand dynamics for real estate.
We believe segments such as data centers and logistics & fulfillment centers are likely to benefit from the new normal, as multi-year structural tailwinds propel them to stable real estate assets, while brick & mortar retail is likely to remain under pressure for the foreseeable future.
This research article is commissioned by ADDX in collaboration with Zero One and SmartKarma.
ADDX is your entry to private market investing. It is a proprietary platform that lets you invest from USD 10,000 in unicorns, pre-IPO companies, hedge funds, and other opportunities that traditionally require millions or more to enter. ADDX is regulated by the Monetary Authority of Singapore (MAS) and is open to all non-US accredited and institutional investors.
Disclaimer – User Agreement Terms & Conditions
If you do not agree to these terms, please do not use this document. Clearsight Systems Pte. Ltd. ("Zero One") provides this   document to you subject to compliance with the terms and conditions set forth herein. By using this document, you hereby accept and agree to comply with the terms and conditions set forth in this User Agreement. This User Agreement is a binding agreement between you and Zero One, and governs your access and use of this document.
Disclaimer, Exclusions, and Limitations of Liability  
You acknowledge that this document is provided for general information purposes only. Nothing in this document shall be construed as a recommendation to purchase, sell, or hold any security or other investment, or to pursue any investment style or strategy. Nothing in this document shall be construed as advice that purports to be tailored to your needs or the needs of any person or company receiving the advice. The information in this document is intended for general circulation only and does not constitute investment advice. Nothing in this document is published with regard to the specific investment objectives, financial situation and particular needs of any person who may receive the information. Zero One is not a broker/dealer, investment/financial adviser under Singapore law or securities laws of other jurisdictions and does not advise individuals or entities as to the advisability of investing in, purchasing, or selling securities or other financial products or services.
Nothing in this document shall be construed as, or form part of, any offer for sale or subscription of or solicitation or invitation of any offer to buy or subscribe for any securities. The data and information made available in this document are of a general nature and do not purport, and shall not in any way be deemed, to constitute an offer or provision of any professional or expert advice, including without limitation any financial, investment, legal, accounting or tax advice, and shall not be relied upon by you in that regard. You should at all times consult a qualified expert or professional adviser to obtain advice and independent verification of the information and data contained herein before acting on it. Any financial or investment information in this document are intended to be for your general information only. You should not rely upon such information in making any particular investment or other decision which should only be made after consulting with a fully qualified financial adviser. Such information do not nor are they intended to constitute any form of financial or investment advice, opinion or recommendation about any investment product, or any inducement or invitation relating to any of the products listed or referred to. Any arrangement made between you and a third party named on or linked to from these pages is at your sole risk and responsibility.
You acknowledge that Zero One is under no obligation to exercise editorial control over, and to review, edit or amend any data, information, materials or contents of any content in this document. You agree that all statements, offers, information, opinions, materials, content in this document should be used, accepted and relied upon only with care and discretion and at your own risk, and Zero One shall not be responsible for any loss, damage or liability incurred by you arising from such use or reliance. You understand that employees, shareholders, or associates of Zero One may have positions in one or more securities mentioned in this document. This document (including all information and materials contained in this document) is provided "as is". Although the material in this document is based upon information that Zero One considers reliable and endeavours to keep current, Zero One does not assure that this material is accurate, current or complete and is not providing any warranties or representations regarding the material contained in this document. To the fullest extent permissible pursuant to applicable law, Zero One disclaims all warranties and/or representations of any kind with regard to this document, including but not limited to any implied warranties of merchantability, non-infringement of third-party rights, or fitness for a particular purpose.
Zero One does not warrant, either expressly or impliedly, the accuracy or completeness of the information, text, graphics, links or other items contained in this document. Neither Zero One nor any of its affiliates, directors, employees or other representatives will be liable for a ny damages, losses or liabilities of any kind arising out of or in connection with the use of this document. To the best of Zero One's knowledge, this document does not contain and is not based on any non-public, material information. The information in this document is not intended for distribution to, or use by, any person or entity in any jurisdiction where such distribution or use would be contrary to law or regulation, or which would subject Zero One to any registration requirement within such jurisdiction or country. Zero One is not licensed or regulated by any authority in any jurisdiction or country to provide the information in this document.
Indemnification
As a condition of your use of this document, you agree to indemnify, defend and hold harmless Zero One and its affiliates, and their respective officers, directors, employees, members, managing members, managers, agents, representatives, successors and assigns from and against any and all actions, causes of action, claims, charges, cost, demands, expenses and damages (including attorneys' fees and expenses), losses and liabilities or other expenses of any kind that arise directly or indirectly out of or from, arising out of or in connection with violation of these terms, use of this document, violation of the rights of any third party, acts, omissions or negligence of third parties, their directors, employees
Copyright 2020, Clearsight Systems Pte. Ltd. Please read our full disclaimer and important terms & conditions at the back of this report. You acknowledge that this document is provided for general information purposes only. Nothing in this document shall be construed as a recommendation to purchase, sell, or hold any security or other investment, or to pursue any investment style or strategy.