This research is commissioned by ADDX in collaboration with Zero One, an insight provider on Smart Karma.
Southeast Asia is emerging as one of the world's most rapidly growing internet economies thanks to favourable demographics, a longer runway for digital growth versus mature Western markets, and global investment interest seeking new growth frontiers.
Sea Ltd (Nasdaq: SE) helped put the region's potential on the map of many international investors, after the company's recent spectacular growth in revenues and share price. The surge in U.S. Special Purpose Acquisition Companies (SPACs) seeking out investment targets across Southeast Asia has taken this interest to a whole new level.
Meanwhile, Chinese tech giants remain committed to investing in what is one of their most important markets for international expansion – with many such as ByteDance and Tencent establishing regional headquarters in Singapore. All of this bodes well for Southeast Asia's homegrown companies to access capital, grow, and crystallise higher investment valuations via buyouts and stock market listings.
3RD LARGEST POPULATION IN THE WORLD TOO LARGE TO IGNORE
If Southeast Asia were a country, it would be the 5th largest economy and the 3rd largest population in the world. Total internet users in Southeast Asia reached 400 million in 2020, representing an online penetration rate of 60%, according to the e-Conomy SEA report, a joint study by Google, Temasek, and Bain & Co.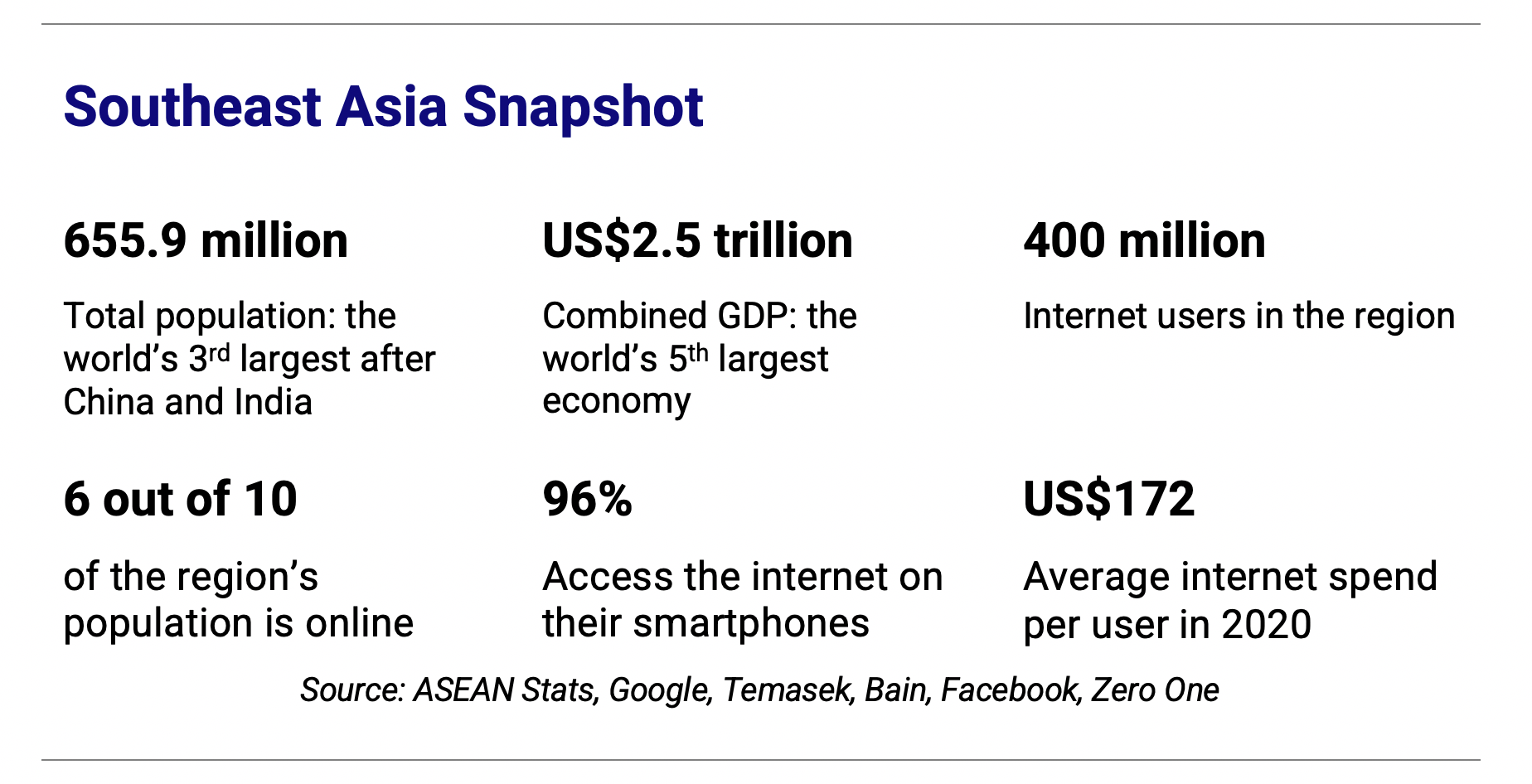 Combined with growing middle-class spending power, this penetration has driven the internet economy's gross merchandise value (GMV) – a measure of market size – to US$105 billion in 2020. This is more than a 3x increase from US$32 billion in 2015, and by 2025 the figure is expected to grow nearly 3x again to US$309 billion. This will make Southeast Asia impossible to ignore for global tech players and savvy investors.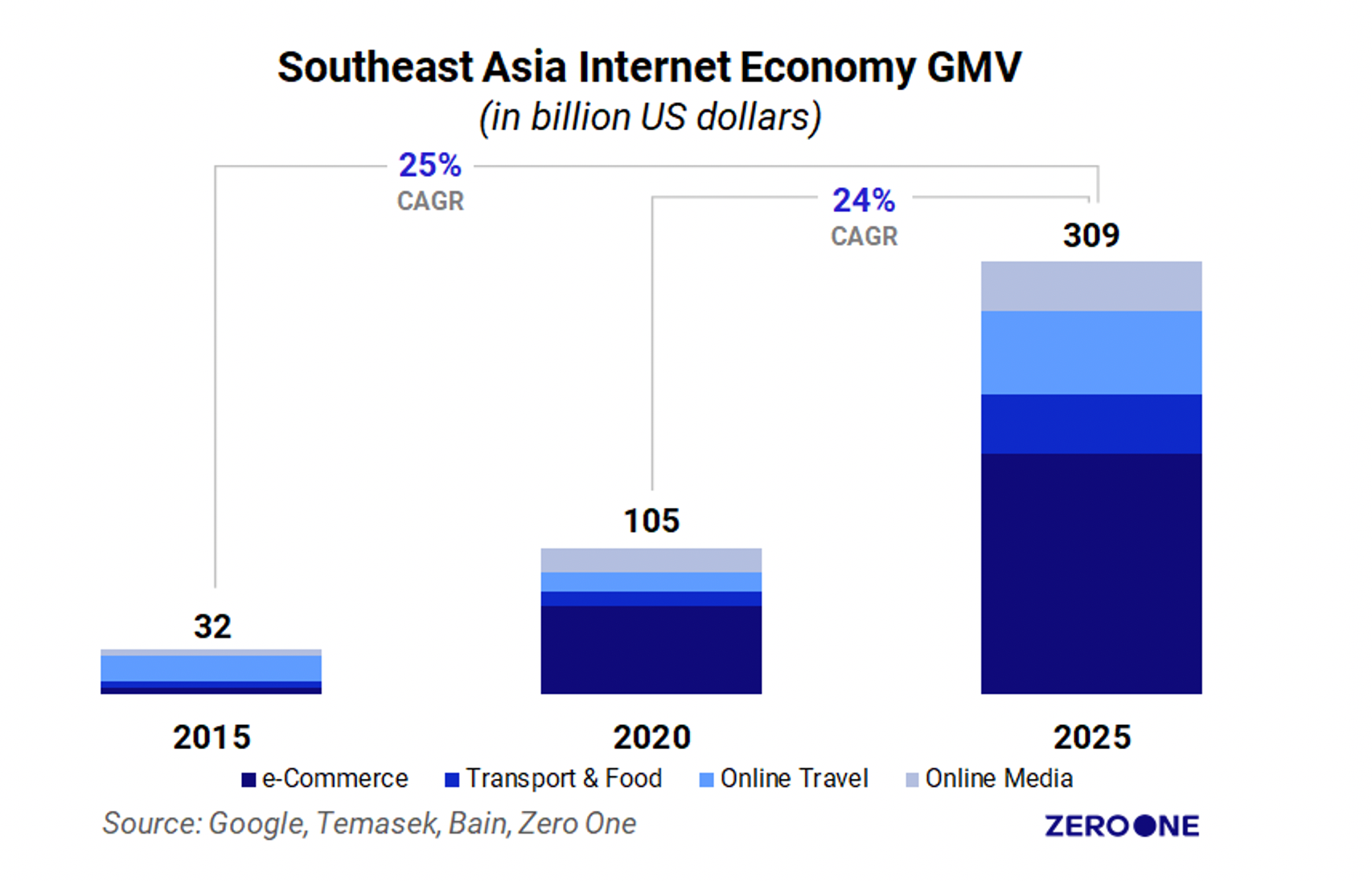 THE RISE OF SPECIALTY eCOMMERCE PLAYERS, LOGISTICS AND DELIVERY
Despite the presumed dominance of the eCommerce companies Lazada and Shopee in the region, research done by Facebook and Bain shows that 53% of Southeast Asians engage in comparison shopping, wherein consumers compare prices with other websites before purchasing. This – coupled with the region's fragmented geography – suggests that there is still much room for growth and innovation from eCommerce players. In particular, logistics and delivery firms and specialty eCommerce platforms are a bright spot within the broader eCommerce space.
Logistics and last mile delivery are expected to grow at the same rate as overall eCommerce, given that it underpins the entire eCommerce experience – its speed, cost, and convenience can make or break user satisfaction and retention. Specialty eCommerce platforms – such as those that focus on niches like fashion, secondhand, or B2B – have strong potential as their focused strategy allows them to better serve their particular niche of buyers and sellers.
Examples of larger unicorns in the space include: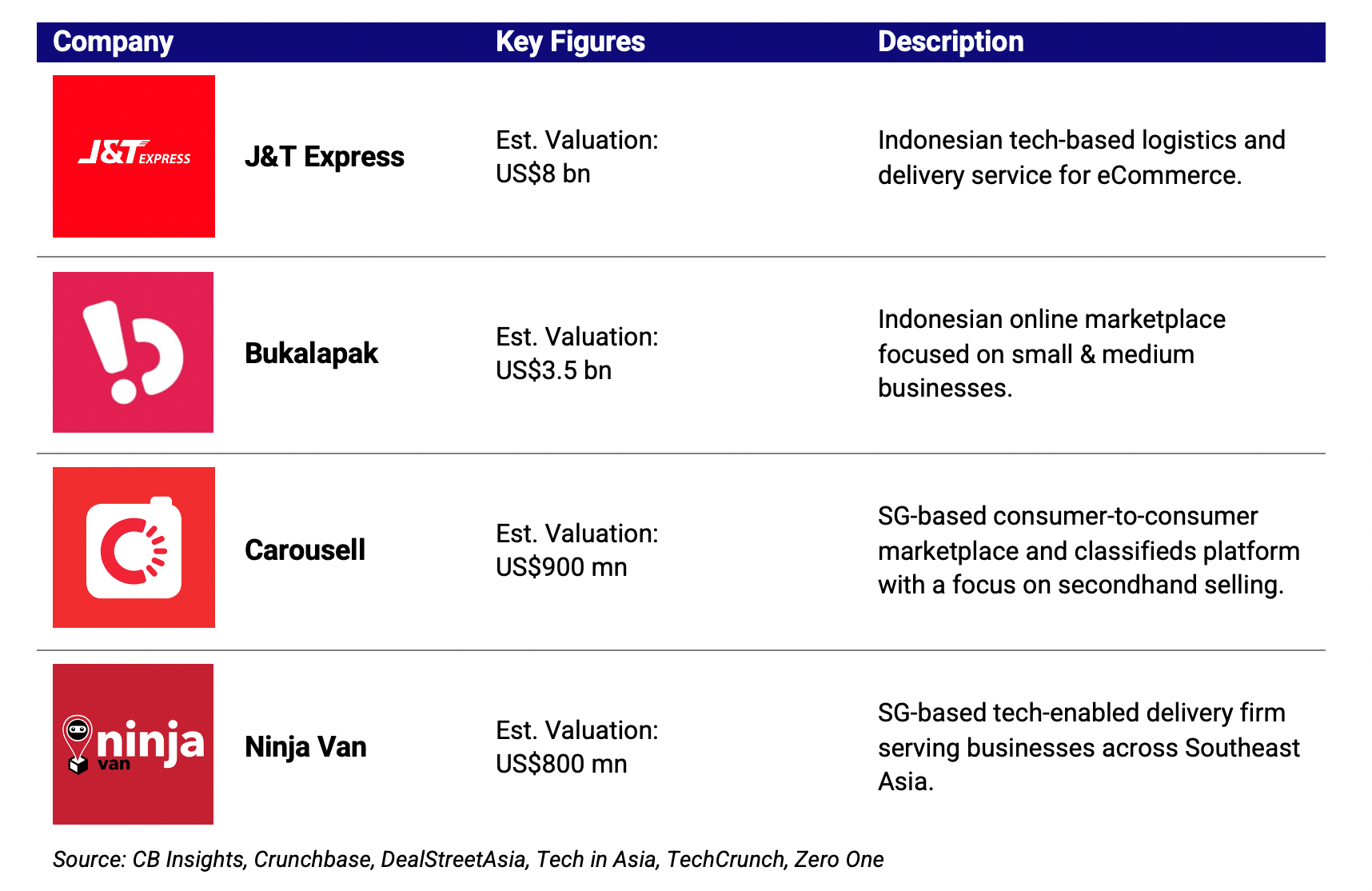 The opportunity for smaller startups remains substantial despite the existence of unicorns. Omni-channel retail for example remains at a nascent stage, representing a significant opportunity for innovation and growth by new upstart tech companies, particularly if they collaborate with traditional retail players.
FINTECH EVOLVING FROM BASIC PAYMENTS TO SOPHISTICATED DIGITAL BANKING
Even with a high rate of internet and smartphone penetration in the region, 73% of the population is estimated to still be unbanked. This implies a landscape ripe for disruption by fintech start-ups that – being 100% digital – can offer much faster and cheaper financial services compared to traditional financial institutions. For many Southeast Asians, banking from their smartphone is their first experience of banking, hence there are fewer old habits for new tech companies to overcome than in developed markets. One can argue that Southeast Asia represents a much larger long-term tech opportunity for finance than exists in developed markets, as e-wallet and digital payment platforms evolve to offer a full range of higher-margin banking services such as credit or microloans, investments, and insurance.
The industry is likely to experience an acceleration of growth partly driven by the issuance of Singapore digital banking licenses to Grab-Singtel, Sea Ltd., and Ant Financial, as well as regulators in other countries following suit with the liberalisation of digital banking, and the region's young and open-to-change population.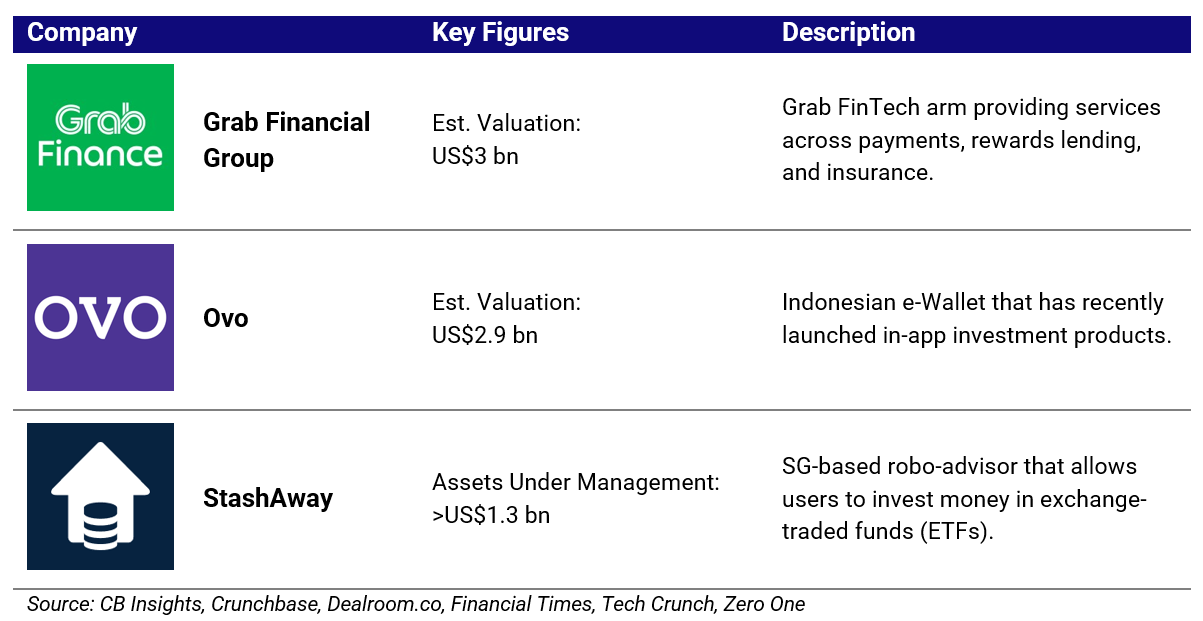 EDTECH OPPORTUNITY ACCELERATED BY COVID-19
COVID-19 forced schools across Southeast Asia to temporarily shut down, which helped spur interest in remote digital alternatives for students. Education technology (EdTech) – once deemed a supplementary medium – became the only option available to many students, teachers, and schools.
Despite a likely gradual return to post-COVID-19 normalcy, the EdTech "genie" has been let out of the bottle. EdTech apps saw a 3x increase in installations during pandemic lockdowns, according to the e-Conomy SEA report. This has accelerated an opening of the market to startups offering more customised video platforms, immersive multimedia and gamification, as has been seen to develop in Western markets and China.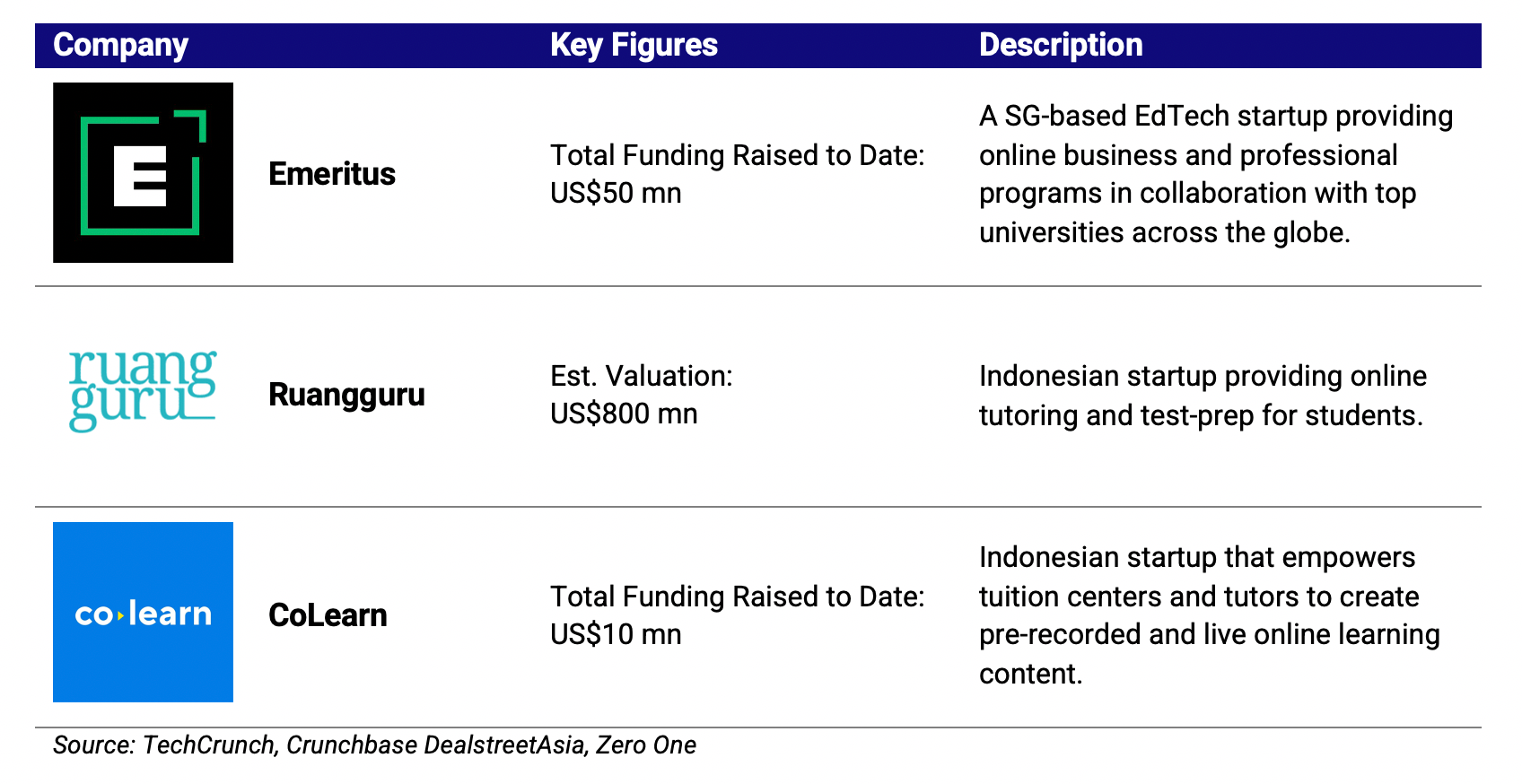 TELEHEALTH DEMAND SURGED DURING LOCKDOWNS AND GAINS HAVE PERSISTED
Access to healthcare is a chronic challenge in Southeast Asia, where in some countries the number of hospital beds per capita can be as low as 1/5th to 1/10th of the normal levels of developed markets. Health Technology and Telehealth have risen to the occasion, providing necessary care to patients without nearby access to healthcare facilities while minimising COVID-19 transmission risk during the pandemic. In fact, telehealth apps have experienced 4x growth during lockdowns, and the gains have persisted even as lockdowns eased.
This trend will only expand further, and hospitals could in the future be reserved for critical care while telehealth and tech-enabled clinics meet most people's basic healthcare needs.
Examples of leading players in the space include Halodoc and Doctor Anywhere:

SOUTHEAST ASIA IS JUST GETTING STARTED
With Grab's public listing in the US market via a SPAC merger, it joins Sea Limited as the region's second tech decacorn (companies with valuations over US$10 billion) to go public. Below are the latest valuations of Sea Ltd., Grab, and GoTo Group (formed from the recent merger of Gojek and Tokopedia).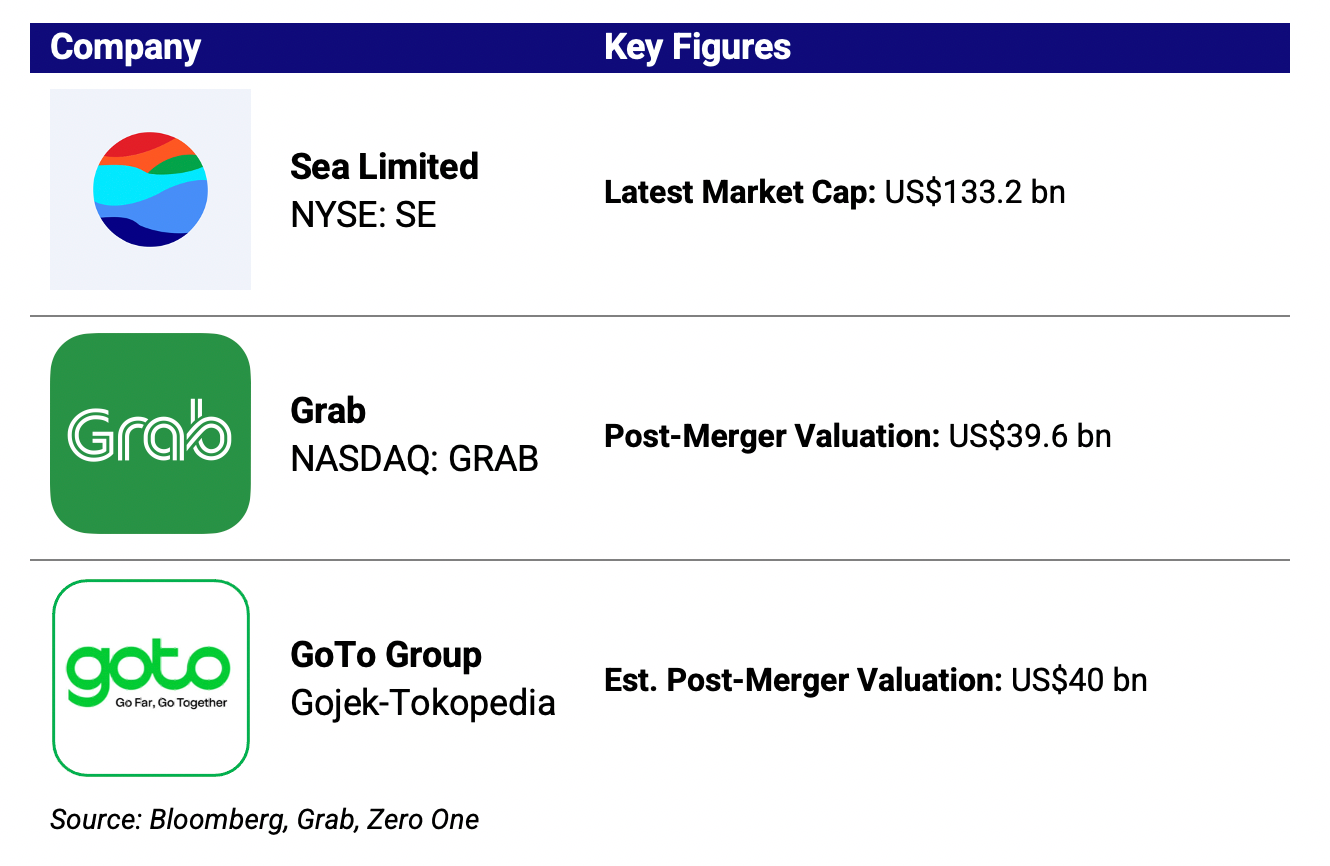 Other Southeast Asian tech unicorns such as GoTo Group, Bukalapak, and Traveloka plan to follow suit and have expressed their intent to go public in the near future.
Hence the future looks bright for Southeast Asia's digital economy given local growth fundamentals and higher-than-ever investor interest. As more unicorn and decacorn tech champions are successfully listed, the venture capital (VC) opportunity in Southeast Asia will grow even further as the listings increase the buzz around the region's tech startups, while also showcasing successful investor exits and increasing market-wide valuations. These factors together could potentially usher in a golden age for the tech ecosystem in Southeast Asia.
ADDX is your entry to private market investing. It is a proprietary platform that lets you invest from USD 10,000 in unicorns, pre-IPO companies, hedge funds, and other opportunities that traditionally require millions or more to enter. ADDX is regulated by the Monetary Authority of Singapore (MAS) and is open to all non-US accredited and institutional investors.