By Choo Oi Yee, iSTOX Chief Commercial Officer
NOTE: In May of 2021, iSTOX rebranded itself to ADDX.
Welcome everyone to 2021 and Happy Lunar New Year!
Starting with our graduation into full commercial operation (and regulated status) this past February, it's been a very busy 2020 here at iSTOX. As we begin 2021 with a wealth of new issuances on tap, I'd like to recap some of the key highlights of the past 12 months as we launched our mission to democratise private capital market investing.
Given our core mission, it is very appropriate that we started making history with our very first issuance. ICH Genesis, a short tenor 6-month bond, matured and was redeemed on our platform in May of 2020. This marked the first ever fully digitised bond to be successfully issued, traded and redeemed on a regulated blockchain-based exchange. This bond was collateralised by a bank guarantee and paid a 6% coupon.
Eternal Glade, our first ever tokenised fund, is a discretionary fund focused on Asia. The fund started trading in March 2020 with a target return of 10%. I am very pleased to note that by correctly anticipating the market recovery of China, Eternal Glade's fund manager has delivered a return of 18.5% since inception in March 2020.
iQuant, a feeder fund into the world-class hedge fund Quantedge, also performed above its target return of 17% p.a. with an actual return of 27% since inception in May 2020. Quantedge was founded in 2006 and currently manages more than USD 2 billion worth of assets. It has garnered numerous international awards and accolades over the years, including Top 5 Large Hedge Funds by Bloomberg in 2014 and 2016, Best Asian Billion Dollar Hedge Fund by EurekaHedge in 2018 and Fund of the Year by AsiaHedge in 2014 and 2016. This fund was previously well out of the reach of even most accredited investors. It normally costs a minimum of US$1 million (and a lock-in period of three or five years) to buy in. We were proud to provide access to our investors for a fraction of that amount and without lock up.
We were very pleased to work with Elite Logistics Trust in July 2020, bringing our investors a truly forward-looking estate fund that is well-positioned to benefit from the spread of the work-from-home business model and the rise of e-commerce. Since their listing, the fund manager introduced Macquarie Principal Finance as a strategic investor and partner and completed an additional acquisition in Spain in December 2020. Elite announced a 10 % annualised distribution yield for the period of June – October. Subsequently, we listed a second tranche that would help finance that Spain acquisition.
In December, we listed Ternary Cypress Fund, an absolute-return fund with a strategy focused on scarce, real assets and a target of growing invested capital by 300% in the next 3 to 5 years. It invests in public securities of small and mid-cap companies with high barriers to entry, backed by real assets that are productive. It recently announced a December 2020 return of 14.8%.
Also in December, we made history again by listing the ICHAM Unicorn Opportunity Fund, the first unicorn fund in the world to launch in digital securities form. This was a rare opportunity for investors to get exposure to a diversified portfolio of late-stage, highly valuable private unicorns in the US, Europe and Asia.  It's a four year fund targeting a 20% return that invests in highly valuable private tech companies (A.K.A. high performing unicorns) via the secondary market. The unicorn fund was listed for trading at the end of December and will likely to start deploying in the first quarter of 2021.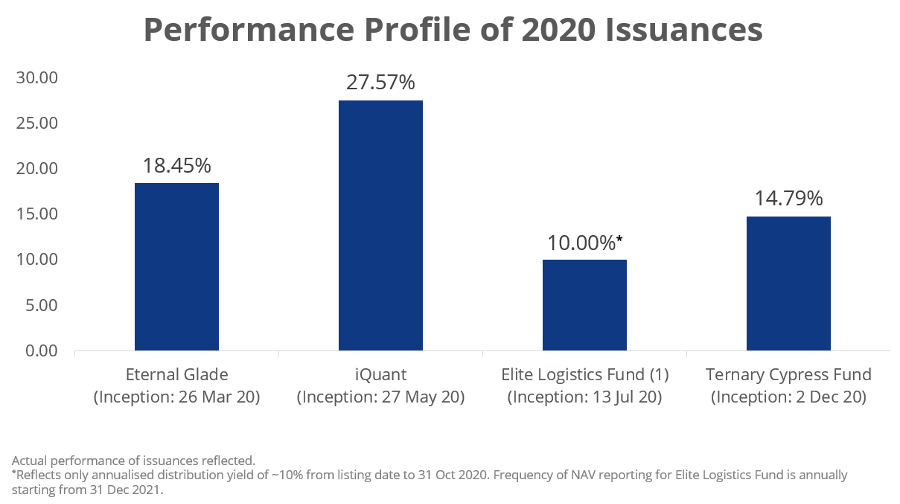 Note: Numbers based on available figures as of December, 2020
We would like to thank all our investors for their continued support and belief! We are very encouraged by the performances of all the investments we onboarded in 2020 and are looking ahead to an even more exciting 2021. Stay tuned!
Disclaimers: The information in this blog post is strictly for general information only. This is not an advertisement making an offer or calling attention to an offer or intended offer.
This has not been reviewed by the Monetary Authority of Singapore.